Rudo y Cursi
(2009)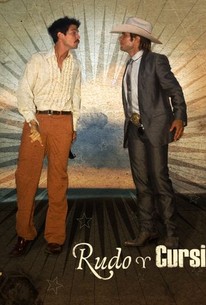 TOMATOMETER
AUDIENCE SCORE
Critic Consensus: Despite its fair share of sports movie cliches, Rudo y Cursi marks an auspicious directing debut for Carlos Cuarón, and features strong performances from García Bernal and Luna.
Movie Info
Beto and Tato are a pair of rivaling, dim-witted brothers who work on a dusty banana ranch and play soccer for their local team. Beto, a goalie whose hot temper on the field earns him the nickname of Rudo, dreams of becoming a professional soccer player, while Tato wants to be a famous singer. They both share the dream of building a big house for their mother, Elvira, but all of their desires seem completely out of reach, that is, until a talent scout, Batuta, discovers their skill on the field. To Beto's chagrin, it is Tato, whose curlicue field play earns him the nickname of Cursi, who is chosen to become a star player. Not to be bested, Beto scores a goalie position on a rival team, further intensifying the competition between them. But success makes the brothers confront their own personal demons and sets them on a chase for more than just soccer balls. Cuaron keeps the energy high and the laughter rolling even as he crafts a moral into the story. But even if the dueling brothers do find a way out of the banana ranch, will the banana ranch ever find a way out of them?
News & Interviews for Rudo y Cursi
Critic Reviews for Rudo y Cursi
Audience Reviews for Rudo y Cursi
In "Rudo Y Cursi," Tato(Gael Garcia Bernal) and Beto(Diego Luna) are half brothers who work on a banana plantation and love to play soccer in their free time. While Beto is the responsible manager with a wife(Adriana Paz) and kids, Tato dreams of becoming a musician and possibly going north to Texas. One day on the way to a friendly soccer game, they encounter Baton(Guillermo Francella), a soccer scout, whose flashy red sports car has broken down. After watching the game and being duly impressed, he claims he can only take one brother with him back to Mexico City. Tato wins on a penalty kick with a bit of guile. Once he is settled on a team, he finds a place for his brother on a second division club. "Rudo Y Cursi" is an engaging enough movie that suffers from a lack of credulity in its story arc with the brothers having little trouble in their rise to fame and the tone is more fatuous than serious, with little new insight on the nature of fame. Compare this movie to the low key "Sugar" for instance. Some of the issues in "Rudo Y Cursi" may stem from Baton's narration, embellishing certain events while deleting other details, at the same time not forgetting his role in corruption. And there is an interesting twist on the big game. In the end, the movie, like the recent World Cup, just goes to prove that some people take soccer way too seriously.
great to see the pairing of bernal and luna again. the sibling rivalry and bonds of brotherhood are well rendered. there are comedic bursts, but not enough to carry the film. love bernal's video ~ the funniest act in the film.
Stefanie C
Super Reviewer
Super good movie! The film is just simply amazing with a great actor with Bernal; Diego Luna was just very funny and the movie gives a great message for everyone we all can learn from. The ending was just perfect and to me was the best part of the movie. It was directed Carlos Cuarón and produced by himself and with colaboration with two very talented fellows also with Alejandro Gonzalez Iñarritu and Guillermo del Toro so you can see the talent this film really has. Mexican half brothers Beto and Tato - who will eventually be appropriately nicknamed Rudo (rough) and Cursi (corny), respectively - have a typical love/hate relationship with each other. They both work on a banana plantation and live with their extended family consisting of their mother, abusive stepfather, sister Nadia, and Beto's wife Toña and their children. The family are rural peasant class and are barely making ends meet. The brother's fortunes change when into their lives comes Batuta, a soccer scout. Despite their advancing ages, both Beto and Tato are naturally gifted at soccer, Beto as a goaltender and Tato as a striker. Playing professionally has always been Beto's dream, although Tato has other professional thoughts on his mind. Batuta eventually recruits both for different teams in Mexico City. Beto and Tato's fortunes rise and fall, the falls based on those things which hold more passion for the brothers. For Tato, he loves fast women, specifically television spokes-model Maya, but he loves singing even more. He would give up his soccer career for one in Mexican country singing, if only he was any good at it. For Beto, his passion is gambling. Although Beto is up front and straightforward about most things in life, he would lie and cheat to hide his gambling problem and debts. They just have to keep these alternate passions in check to make their soccer lives lucrative ones.
Rudo y Cursi Quotes
| | |
| --- | --- |
| Batuta: | Nowadays, wars are mistaken for games, and games for wars. |
| | |
| --- | --- |
| Batuta: | The poorest places are where you'll find a diamond in the rough. |