Rudy
(1993)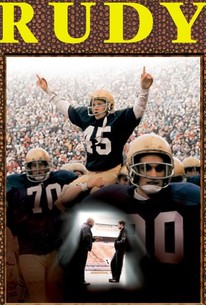 Movie Info
Since he was a little boy, Rudy Ruttinger (Sean Astin) has idolized the University of Notre Dame and its football team. However, he is a small boy who will inevitably grow up to be a small man. Not only that, but he is not an outstanding student or even a particularly good athlete. His blue-collar family is convinced that he is only asking for heartache by aspiring so far beyond his abilities. For a while Rudy grudgingly accepts this assessment and goes to work in the local steel mill. His dream just won't die, and he eventually wins admission to the college of his dreams, In his junior year he tries out for the football team, but is able only to serve as a live tackle-dummy. Bruised and battered though he is, he is proud to have any connection with his team. By his senior year, the team has grown so fond of the boy that on the day of the final game, every member shows up at the coach's office and offers to give up his place on the squad in order to give Rudy one chance to suit up as a team member. The coach, moved and impressed, allows Rudy to suit up and lead the team to the benches. Then, once victory is assured, he lets Rudy participate in the final scrimmage of the game. Rudy acquits himself well, and his loving friends hoist him onto their shoulders and carry him off the field. This "men's weepie" is based on the true story of Rudy Ruttinger.
Audience Reviews for Rudy
½
Rudy is a well made and acted true story about Rudy Ruettiger a down on his luck student who dreams about going to Notre Dame University and playing for the Universities football team, The Fighting Irish. Unfortunately the odds are against him, and there's nothing but bad luck for Rudy. But he perseveres to make his dreams a reality. Rudy is a well made film, but I saw so many films that followed the same path, that when I finally got around to watching Rudy, it seemed clichéd almost. However, what separates this film from the rest of real life "feel good movies" is that it surrounds a kid who beat all odds to attend Notre Dame, and there was some great acting here to boot. If you've seen some "feel good inspiring films" before, then you've seen Rudy, but for what it is, I felt that this story was better written and better told on screen than other films of this caliber. That's the difference from most "feel good" films. Sean Astin gives a terrific performance, and this one of his best roles. In Lord of the Rings, he was terrific, but slightly annoying. However in Rudy, Astin delivers a great, memorable performance. Rudy is a terrific film and though it's a "feel good" film, it manages to actually make you feel, despite its small imperfections. This is a terrific film about not giving up, and watching Rudy not let anything stand in his way is memorable.
Rudy is not just a tale of a brave and determined, its the most inspiring movie in film history, and the greatest sports film ever made. Rudy Ruttiger (Sean Astin) has had a long dream of playing football at Notre Dame, but everybody has always told him he couldn't do it, but ehen his best friend dies he decides to finally live his dream. The plot of this movie was genius, it took us through this real life story and was beautiful, and I will never forget Rudy Ruttiger. The cast was incredible, Sean Astin plays a Oscar worthy performance and has some of the most beautiful moments in film history. The score of this movie was perhaps the great film score in movie history, ever since I was young I have loved this music, and I csn honestly say this is about my #2 favorite film music ever. Rudy is too amazing to describe, and it is honestly (in my opinion) the greatest sports film in history.
Jim Careter
Super Reviewer
Rudy is about a guy who wanted to play football for the Notre Dame football team. When growing up people said that he does not have want it takes to get into Notre dame. One day he decides that he would not let people push him around any more. Then he begins on a hard journey to make his dream some true. Will he make his dream come true or will he fail big time. Pros Good acting and plot. Really moving film. Based on a true story. If u wants a good drama you should give this a try.
erika bruhns
Super Reviewer
Rudy Quotes
| | |
| --- | --- |
| Pete: | Well, you know what my dad always said, Having dreams is what makes life tolerable. |
| Pete: | Well, you know what my dad always said, 'having dreams is what makes life tolerable.' |
| | |
| --- | --- |
| Rudy Ruettiger: | We're gonna go inside, we're gonna go outside, inside and outside. We're gonna get 'em on the run boys and once we get 'em on the run we're gonna keep 'em on the run. And then we're gonna go go go go go go and we're not gonna stop til we get across that goalline. This is a team they say is... is good, well I think we're better than them. They can't lick us, so what do you say men? |
| | |
| --- | --- |
| Fortune: | You're 5 foot nothin', 100 and nothin', and you have barely a speck of athletic ability. And you hung in there with the best college football players in the land for 2 years. And you're gonna walk outta here with a degree from the University of Notre Dame. In this life, you don't have to prove nothin' to nobody but yourself. And after what you've gone through, if you haven't done that by now, it ain't gonna never happen. Now go on back. |