Ruggles of Red Gap
(1935)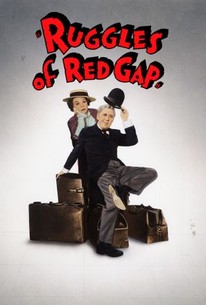 Movie Info
Previously filmed in 1918 and 1923, Harry Leon Wilson's novel achieved movie classic status when it was remade by Leo McCarey in 1935. The story opens in Paris, circa 1908. Ruggles, beautifully underplayed by Charles Laughton, is the ultra-obedient manservant to the bibulous Earl of Burnstead (Roland Young). During one of the Earl's nocturnal forays, nouveau riche American cattle baron Egbert Floud (Charles Ruggles) wins Ruggles in a poker game. Terrified at the prospect of being bundled off to the Wild West, Ruggles' resolve is weakened somewhat when he and the raucous but ingratiating Egbert spend a wild night on the town. (The besotted butler's periodic exclamations of "Whoopee!" are priceless.) Back in the frontier "boom town" of Red Gap, a misunderstanding obliges Egbert's social-climbing wife Effie (Mary Boland) to pass off Ruggles as an aristocratic British army officer, immediately arousing the suspicions of priggish social arbiter Charles Belknap-Jackson (Lucien Littlefield). The longer he spends in America, the more Ruggles grows to like the concept of democracy and self-determination. Of the film's many highlights, two are standouts: the scene in which Ruggles silences a rowdy saloon crowd with his recitation of Lincoln's Gettysburg Address, and the droll, semi-improvised vignette in which dancehall girl Nell Kenner (Leila Hyams) teaches the Earl of Burnstead how to play the drums. Ruggles of Red Gap was filmed for a fourth time in 1950 as the Bob Hope-Lucille Ball musical Fancy Pants.
News & Interviews for Ruggles of Red Gap
Critic Reviews for Ruggles of Red Gap
Audience Reviews for Ruggles of Red Gap
A joy to view and with Charles Laughton in a non serious role for a change. He obviously relishes the opportunity and his reactions to the change in his environment are memorable.
John Ballantine
Super Reviewer
Five wonderfully distinctive performers, Laughton, Charlie Ruggles, ZaSu Pitts, Mary Boland and Roland Young get to strut their stuff to great effect in this sharp comedy.
it makes me happy that there are still hidden gems of cinema to be turned up and i probably won't live long enough to find them all. until a few months ago i'd never even heard of this movie and i'm a laughton fan! it's an absolutely delightful comedy western about a proper english gentleman's gentleman whose master loses him in a poker game--to some nouveau-riche americans. soon ruggles is on his way to the wild west where the concept of a manservant is not quite obvious to everyone. at first aghast, ruggles soon adapts to life in a society where everyone is 'equal'. a great 'fish out of water' comedy and subversive commentary on american vs european values with a wonderful, nearly silent performance by laughton, who does most of his acting with facial expressions alone! let's hope this gets a dvd release soon; it certainly deserves one
Stella Dallas
Super Reviewer
Ruggles of Red Gap Quotes
There are no approved quotes yet for this movie.