The Rugrats Movie
(1998)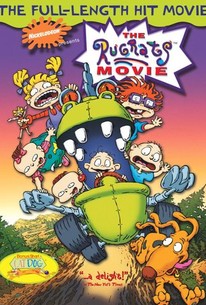 Movie Info
Based on the popular Nickelodeon TV series Rugrats, this is the first full-length feature animated movie to star the little tots. It's the story of diaper-clad kids, told from a baby's point- of-view, and they were one of the hottest-selling toy franchises of the late '90s. The film features a hilarious musical number in the hospital nursery, where newborns have the voices of major rock stars that include Jakob Dylan (Bob Dylan's son), Iggy Pop, Lou Rawls, Lisa Loeb, and Patti Smith, to name a few. The story escalates when self-proclaimed leader Tommy Pickles is thrust into an impossible situation with the birth of his new brother, Dil Pickles. This new kid is grabbing all the attention and won't stop crying. With the help of other toddlers Lil and Phil, Tommy decides that the baby should be returned to the hospital for fixing. They all hop on their little wagon and take a high-speed ride straight into the deep woods where they realize they're lost. Chased around by animals (or so they think), the Rugrats clan must get home in one piece. Other celebrity voices include Whoopi Goldberg and The Rocky Horror Picture Show's Tim Curry, as well as Saturday Night Live's Andrea Martin and David Spade. ~ Chris Gore, Rovi
News & Interviews for The Rugrats Movie
Critic Reviews for The Rugrats Movie
Audience Reviews for The Rugrats Movie
½
For anyone not in the know, [i]Rugrats[/i] was a highly popular cartoon series which aired on Nickelodeon in 1991 and ran through until 2004. The basic plot behind the series was seeing the world through a babies perspective, from a babies point of view. The main baby in question was Tommy Pickles, along with his small gang of baby friends, Chuckie, Phil and Lil. We follow this little group of babies as they get into all sorts of imaginary adventures and mischief born out of sheer curiosity and wonder. Like other cartoons on Nickelodeon at the time one aspect of the series that stuck out was the artistic style or look of the cartoon. Most of the characters were generally human in shape and form but over exaggerated, almost like caricatures based on real people. The babies had quite big heads with large eyes and mouths, whilst the grown ups had very distinctive features that were simply overemphasized for a more comical look. The whole cartoon was always from the babies point of view which meant very low angles with everything looking more intimidating and obviously larger. Much like [i]Hey Arnold![/i] or [i]Doug[/i] this world was presented semi realistically but obviously in a more simplified manner. The cartoon was generally big bold and colourful but with a more sensible vibe and tone; where as say [i]Hey Arnold![/i] tended to be much more vivid and cartoony looking. Of course it wasn't all just pretty visuals, the characters were the main selling point and they certainly hit a home run with these lill fellas. The wholesome, brave, bold, heroic, diaper wearing Tommy Pickles. The quivering ginger scaredy-cat Chuckie, who also happens to be one of the eldest. The cheeky twins Phil and Lil who like to eat bugs and play in the mud. Angelica the spoilt, bossy, blonde brat that is always out for number one. And newbie character Dil the baby, who drools a lot. All the other regular favourites are also present and correct from Spike the dog, Susie the girl from next door, Dr. Lipschitz, Grandpa Lou and all the other parents. So as said all of the little plots in the series surround everyday life and events for the babies as they go through life. Naturally this being the first big movie outing for the series the plot has to reflect that and be...bigger, makes sense. This movie sees the introduction of baby Dil which naturally makes Tommy unhappy in time as Dil gets all the attention. Not that Tommy is a selfish character, no,he just feels left out and forgotten. Unfortunately over time Dil pushes Tommy and the other babies too far with his umm...babyish antics, so the gang decide to take him back to the hospital. This leads the babies on an accidental collision course with fate as they get more than they bargained for getting lost in the wilderness. So essentially this is in fact a very generic plot involving the babies getting lost, the parents finding out and having to go search for them. Along the way we get various cameos from old and new characters and mini side plots including the bratty Angelica searching for her precious doll Cynthia which Dil picked up before hand. So alas its all very routine stuff that doesn't really push the barrier of originality. Its a real shame since many of the TV episodes have some fantastic little plots utilising the babies imagination and some unique locations. This movie just didn't use any of that apart from a small (again generic [i]Indiana Jones[/i]-esque) intro sequence. For the rest of the time its just too sensible and grounded if I can say that. I didn't really wanna see the babies out in the wilderness for real, lost, cold and genuinely in danger. None of that felt right, [i]Rugrats[/i] should be a much lighter affair. Did we really need to see the babies getting stuck on a rickety bridge almost falling to their deaths? Did we need lots of eerie circus monkeys running around like evil goblins attacking the babies? When the babies get trapped in a van which crashes of the side of a mountainous road!! Jesus!! Getting tracked and attacked by a wild wolf. Almost drowning in rapids. Lost, cold and hungry in the forest at night with the parents in pieces trying to find them?? It all just felt a bit too much really. Unfortunately this being a modern update of the cartoon, so to speak, this also meant other new features which had never cropped up before. Whilst the animation was very nice all round, it just didn't have the same colourful vibe that the TV series had. Again the more realistic plot lead to a more realistic artistic look with muted colours or more authentic effects. Of course it still looked like [i]Rugrats[/i], but like other famous cartoon TV series ([i]The Simpsons[/i]) the earlier series will always stand out as the classic look, the epitome of the franchise. When the animation was a bit ropy but (clearly) packed with lots of tender loving care for each frame. This movie just looks too glossy, sharp and clean. It utilises CGI which stands out a mile and ruins the whole hand drawn look and vibe. To make mattes even worse they actually added songs into the mix, songs! Let me be clear, there has never been any songs in the TV series...except for the odd plot related occasion. This whole angle just felt like a cheesy tacky way of muscling in on Disney and padding out the movies runtime (to me anyway). There was just no need for crappy songs. But wait there's more! They even add horrendous R&B/hip hop (whatever they were) tracks to the end credits for fucks sake. If anything is the absolute epitome of modern day kids flicks trying to embrace and suck up to 'new modern culture' its the use of ghastly hip hop songs in the credits. I wouldn't mind but at least use these songs for movies that fit them, [i]Rugrats[/i] does not require that type of music. Anyone who has seen the TV series will know that. So as a fan of the series I was ultimately disappointed with this initial outing simply because I know it could of been so much more. Yes there are plenty of little humorous moments, cutesy delightful touches and lots of heartfelt schmaltz, but that's to be expected. What I really wanted to see was a great big imaginative adventure utilising the babies creativity and hijinks around the house, garden or various local buildings (much like the series episodes). I realise its a hard ball to juggle when making a movie but this just felt way too safe, corny and easy, much like the [i]Doug[/i] movie plot. The influx of modern pop culture references, songs, CGI and the scary factor in the plot just takes you out of the movie because its nothing like the TV show basically. This just felt like a misfire to me.
Phil Hubbs
Super Reviewer
Tommy Pickles: Yo-ho-ho and a bottle of yum!  "An adventure for anyone who ever wore diapers." When I was a little kid, my favorite cartoon on television was Rugrats. I could watch it all day long. I remember watching this movie when I was little as well. I remember liking it, but I also remember, even as a little kid, thinking it wasn't as good as the tv show. This movie is short, and that's one of its few positives. It's got a quick paced feel to it is as well, so the whole film just speeds by. After it does, you're left with a lot of disappointment, especially if you are a lover of the cartoon. Tommy is excited for the arrival of his new baby brother. When he comes home, everything isn't as great as he thought. The baby cries all the time, and is extremely selfish. When an accident happens leaving the four friends and the new baby on their own in the wilderness with Angelica and Spike on their heels; a search team is put out to find them. The babies battle a wolf and a bunch of monkeys, in order to make it to the lizards house. Most of the writing for this movie centers around the babies mispronunciation of words. It's cute a few time, but the extent to what it is used gets quite annoying. The songs are annoying as well. I guess that's the lasting impression of The Rugrats Movie. It's annoying. I was annoyed by the adventure, by the situations, by just about everything. It's just a big disappointment.  If you want to introduce your kids to one of the best cartoons ever; do it through the television show and not this sorry excuse for a movie. This doesn't come close having the same fun feeling the series had. A lot of that may come from the television adventures only being fifteen minutes each. When you have to fit a plot into a feature length movie of an hour and twenty minutes, it gets a little harder. So, I'll cut them a little slack.
Melvin White
Super Reviewer
An okay film version of an okay kids cartoon. It's nothing special, and it's a lot like the show too. Overall, it's okay.
The Rugrats Movie Quotes
There are no approved quotes yet for this movie.