Rules of Engagement
(2000)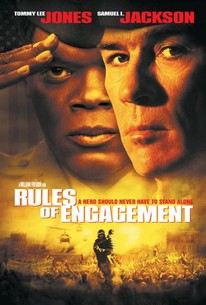 Rules of Engagement Photos
Movie Info
In this drama, two U.S. Marines who stood side by side on the field of battle are reunited in a court of law. Attorney Hayes Hodges (Tommy Lee Jones) once aspired to a career as an officer, but a serious injury in Vietnam put an end to his military future, leaving him bitter and resentful. Col. Terry L. Childers (Samuel L. Jackson) fought alongside Hodges and once saved his life; when Childers is threatened with a court martial for ordering his troops to fire on civilians during a raid on an American embassy, Hodges is the only lawyer that he can trust, and the case gives Hodges a chance for revenge against the military system that he feels has wronged him. Rules of Engagement also features Kim Delaney, Ben Kingsley, Blair Underwood, and Anne Archer. ~ Mark Deming, Rovi
Critic Reviews for Rules of Engagement
Audience Reviews for Rules of Engagement
A mostly enjoyable distraction big on capturing the style of the marines but one that's a little short on plot; in a post-CSI world, I feel like they could have just done the 20-minute forensics and told us where the fire was coming from, and not needed half a movie of trial coverage to predictably get to the bottom of it. An interesting relic, though, as it is one of the few films that raise the spectre of terrorism originating from the Middle East before 9/11. And this was on TBS (sorry, I guess it's Peachtree now) like two days before the U.S. Embassy in Yemen was bombed last week... that's creepy, right? Anyway, Tommy Lee Jones is quite good (as always), Sam Jackson held his own, and while I wouldn't go out of my way to see it, it was at least engaging (haha) enough to watch front to back, no matter how many f-bombs were replaced with "forget".
Daniel Perry
Super Reviewer
A decent war drama war as a mission is investigated in court to find out what happened.
An intensely gripping, nail-biting and exhilerating military thriller. Compelling, memerising and very exciting. A mixture of strong court room drama and some explosive action. Tommy Lee Jones and Samuel L. Jackson give electrifying performances. These two heavyweights deliver the greatness, showing us why they are indeed superstars. Abslolutely unforgettable and powerful. A superb and tremendous film. Director, William Friedkin's finest film. A classic. It grabs you and dosent let go for a second.
Rules of Engagement Quotes
There are no approved quotes yet for this movie.