Rumble Fish
(1983)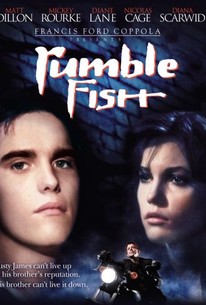 TOMATOMETER
AUDIENCE SCORE
Critic Consensus: Rumble Fish frustrates even as it intrigues, but director Francis Ford Coppola's strong visual style helps compensate for a certain narrative stasis.
Movie Info
Adapted from a novel by S. E. Hinton, this film takes place during a summer vacation. Mickey Rourke plays a former teen-aged tough who is idolized by his younger brother Matt Dillon. While Mickey would like to leave his wild days behind, Matt wants to reactive his brother's street gang.
News & Interviews for Rumble Fish
Critic Reviews for Rumble Fish
Audience Reviews for Rumble Fish
I forgot about this one, and it is worth seeing if you haven't already. As a long time percussionist and fan of the brilliant work of Stewart Copeland, his score alone kept me engaged. Then again, you have the great Dennis Hopper as the drunken father, pre-plastic surgery Mickey Rourke as the former rumble leader called "Motorcycle Boy", and Matt Dillon as his younger brother who attempts to slip into that role while waiting for his return. Throw Diane Lane in there as Rusty James's(Dillon) girlfriend in crime and his friends portrayed by Chris Penn and another pre-plastic surgery actor by the name of Nicolas Cage, and things may get ugly amongst the black and white film where only the rumble fish show their color.
Released back-to-back with his previous 'teen-novel' adaptation "The Outsiders", Francis Ford Coppola attempted another of S.E. Hinton's books. Like his previous release, he assembled a brilliant cast but approached it in a different style. This time, the results were far more impressive. Rusty James (Matt Dillon) is a troubled young man from a broken background. His mother left him years ago and his father (Dennis Hopper) has turned to alcohol. He's the leader of a small gang in a time where gang fights are dying out and most people of his generation still idolise his absent older brother 'The Motorcycle Boy' (Mickey Rourke). Rusty James refuses to accept and believes he can make as much a name for himself as his legendary sibling. When his brother returns to town, the life that Rusty James envisioned begins to change. Admittedly, I never got around to reading the book on this one and given Coppola's sumptuous visual take on it, I'm sure it would have made for an interesting comparison. Much like "The Outsiders", this also has a feeling of a teenage audience at heart but is executed with much more darkness and depth. Coppola's use of monochrome - with momentary flashes of vibrant technicolor - is simply astounding and quite beautiful to observe. Several scenes throughout the film border on surreal and dreamlike and the intense performances add to this; Matt Dillon is on great form as the tearaway teenager who can't stay out of trouble and as his brother, Mickey Rourke delivers a character of quiet, tortured intensity. The rest of the cast are great also with Dennis Hopper playing the alcoholic father and Laurence Fishburne, Chris Penn and Nicolas Cage making up the rest of Rusty James' crew. Added to which, there is a welcome cameo appearance by Tom Waits, mumbling his way through a short but memorable character. Coppola once described this film as "an art-film for teenagers" and coming from the man himself, there is no better description. It might have been experimental or ambitious for him at this time but it still stands as one of his most visually refined pieces of work. Special mention must also go to Stephen H. Burum for his ethereally stunning cinematography and Stewart Copeland (from the band "The Police"), for his unsettling and impressionistic score. This makes a perfectly dark companion piece to the lighter side of "The Outsiders". They couldn't have been shot any more different and if viewed together, would make a great double bill.
Mark Walker
Super Reviewer
The Motorcycle Boy: If you're going to lead people, you have to have somewhere to go.  "No leader can survive becoming a legend." Since first watching Rumble Fish, it has grown and grown on me. Initially I liked it, but thought it was lesser Coppola, not nearly as bad as Jack, but not even as good as one of his more average movies, Tetro. The more I have thought about it, the more I have really started to like the film. I love these brother movies, where the younger brother tries to be the older brother, but can't. There is so much truth in them and this one one is extremely well done. The movie opens with Rusty James being told that another street punk wants to kill him and challenged him to fight. We then learn through conversations with his friends that Rusty's brother has been gone for awhile. His brother is a legend on the streets; he is The Motorcycle Boy. When Rusty James and his gang go to the fight, The Motorcycle Boy shows up too and the two brothers start hanging out again. From there, there isn't too much plot. It is all about the brothers and what it means to be a leader and shit like that. The Motorcycle Boy is such an awesome character. He is played by Mickey Rourke and I don't think there was an actor better suited to play him. The character is like James Dean's from Rebel Without a Cause reincarnated. The guy is tough, but he is also soft spoken. He is color blind and doesn't hear all that well. He looks old for his age, probably from all the partying and fighting. The Motorcycle Boy is a leader and a smart, philosophical brother to  Rusty James and all Rusty wants his to be like his brother when he grows up.  Maybe it isn't The Godfather or Apocalypse Now, but I still think this shows off just how good Coppola is. It shows how flexible he is as a filmmaker and further proves his immense talent. There is only one thing that hurt the movie and that was knowing the ending way too early. Not that we were told of it, but that it was too obvious. It was the only way it could end. Still a beautiful film from Francis Ford Coppola.
Melvin White
Super Reviewer
Rumble Fish Quotes
There are no approved quotes yet for this movie.