Run & Jump
(2014)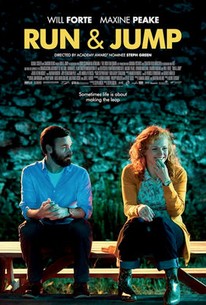 Movie Info
A headstrong Irish housewife finds her life transforming in ways she never thought possible after her husband suffers a life-altering stroke, and an American doctor arrives to chronicle the family's recovery process in this intimate drama from director Steph Green (whose short film New Boy was nominated for an Oscar in 2007). In the wake of her husband's stroke, loving wife and mother Vanetia (Maxine Peake) gradually comes to realize that her household will never be the same again. Much to Vanetia's relief, a research grant from American doctor Ted Fielding (Will Forte) provides the funds needed to remain financially afloat. Ted wants to study how the family copes with such a severe trauma, and though at first his presence in the home strikes a chord of resentment in the overburdened Vanetia, he exhibits an air of tranquility that soon becomes a source of deep comfort to her. Likewise, Vanetia's unwavering strong will awakens a newfound sense of vitality in the reserved Dr. Fielding, resulting in growth and healing for all involved. ~ Jason Buchanan, Rovi
News & Interviews for Run & Jump
Critic Reviews for Run & Jump
Audience Reviews for Run & Jump
An American neurologist bunks with an Irish family to study the eccentric behavior of the brain-damaged father who's recovering from a stroke; naturally, his objectivity erodes as he becomes emotionally involved with the wife and children. Mature drama that would have benefited from brisker pacing.
½
"Run & Jump" starts with Vanetia(Maxine Peake) bringing her husband Conor(Edward MacLiam), a woodworker, home from the hospital after a stroke left him in a coma for a month and in the hospital for four more. Needing money, she lets Ted(Will Forte), a neuroscientist, into the home, not to aid with Conor's recovery which has gone as far as it can but to observe for a paper he is writing, displacing Lenny(Brendan Morris) who is being bullied from his room. "Run & Jump" is an offbeat and engaging look at the adjustments a family makes after an unthinkable tragedy, proving that there is no such thing as an impartial or invisible observer. Of particular interest is the way the movie does not offer up any easy solutions or magic bullets. As unpredictable as the movie can be while set in rural Ireland which can be simultaneously comforting and provincial, there are maybe certain story elements that I should have seen coming but didn't. Some of that comes down to the high level of performances, especially a vibrant Maxine Peake as the music-loving lynchpin of the family and Will Forte knowing enough again to keep out of the way.
Run & Jump Quotes
There are no approved quotes yet for this movie.