Run Lola Run
(1999)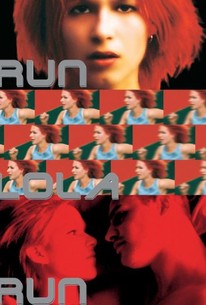 TOMATOMETER
AUDIENCE SCORE
Critic Consensus: More fun than a barrel of Jean-Paul Sartre, pic's energy riffs on an engaging love story and really human performances while offering a series of what-ifs and a blood-stirring soundtrack.
Movie Info
Presenting his third feature after last year's acclaimed Wintersleepers, Tom Tykwer cranks up the volume, stiffens the pace, and jettisons us on one of this year's most exhilarating cinematic adventures. A breathtaking race against the clock, Run Lola Run straps Tykwers' playfully hip sensibilities to a fun-filled mix of romance, thrills, and action as his tireless heroine pounds the pavement and racks her brain to save her lover from danger. Manni and Lola are twenty-something Berliners, way past cool and desperately in love. When Manni, a local criminal's errand boy, loses twenty thousand Marks, he has twenty minutes to find the money or face retaliation. Not the brightest bulb, Manni turns to the quick-witted, resourceful Lola to devise a plan to save his hide. And so she does, and off she sprints, running for Manni's life, for her love, and to find money somewhere, somehow. Dangling three "what if" variations on Lola's mission to save her mate, Run Lola Run propels us toward each outcome with a delicious peppering of surprises, quirks, and twists. A sure-fire hit with audiences, Run Lola Run brings to the screen two actors of immeasurable charisma: Franka Potente as the heroic, flame-haired Lola, and Moritz Bleibtreu as her doltish but devoted lover. Scoring his delirious staccato mix of animation, still photographs, and live action to a pounding techno beat, Tykwer reveals himself a virtuoso of the medium and, at the same time, a passionate believer in destiny and the transcendent power of love.
Critic Reviews for Run Lola Run
Audience Reviews for Run Lola Run
Lola has twenty minutes to find a way to get 100,000 Deutschmarks to her boyfriend across town before he gets whacked. Problem is, she's broke, but fortunately, she gets a couple do-overs. Experimental but accessible, Lola schemes (and runs) nonstop through this frenetic thriller/drama; breathers are for subplots and flashbacks. She's going to need a new sports bra when this is all over.
½
A young woman receives a phone call from her boyfriend telling her that if he doesn't get 100,000 Deutchmarks within 20 minutes he's a dead man. It tells of the consequences of the phone call in 20 minutes of real time three times over, each containing a slightly differing timeline, thus showing how minor incidents or coincidence can have a massive knock on effect to not only your life, but those around you. Run Lola Run is very much a product of its time; the techno soundtrack, grunge fashion and fascination with the mathematics of probability (ie "the butterfly effect") all reek of the 1990s, but Run Lola Run still feels strangely fresh, probably because of its brisk, no-nonsense pace and 75 minute running time meaning it never gets too caught up in pretentious navel gazing. I could have lived without some of the directorial affectations that made it feel a little too much like a music video in places, and the coincidences are of course extremely unlikely, but the urban crime element gives it a Luc Besson-esque flavour that makes for an entertaining and original experience.
It's the choices you make that lead you to the situation of the present , not life by itself. This flickr deals with the pleasure of trying any possibility until achieving the best one .Unfortunately everybody's life doesn't come with such instructions to it's manual...
Eliza Norton
Super Reviewer
Run Lola Run Quotes
There are no approved quotes yet for this movie.