Runaway Bride
(1999)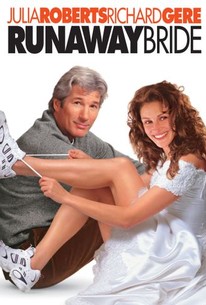 Movie Info
A columnist fired by his editor/ex-wife for being too chauvinistic tries to redeem himself by chasing a story on spec about a woman who habitually jilts her fiances. The writer relocates to her hometown and falls for his subject who suffers from an identity crisis as evidenced by her inability to determine how she likes her eggs.
News & Interviews for Runaway Bride
Critic Reviews for Runaway Bride
Audience Reviews for Runaway Bride
Richard and Julia team up again for a romantic comedy. Pretty Women brought them together initially and in this movie they still have a lot of chemistry. Julia wants to get marriied but finds it hard to commit. Richard plays a journalist who tries to find out why the bride to be ditched 3 men at the altar. Good movie.
Candy Rose
Super Reviewer
"Runaway Bride" was a lot better than I thought it was going to be. Ike Graham (Richard Gere) is a reporter who is famous for writing notorious stories about women in the USA Today. He is assigned to write a story about Maggie Carpenter's (Julia Roberts) famous antics at weddings. Maggie is known for almost getting married and then at the last second, running away from the wedding. Soon she meets Ike in person and both good and bad things take off from there. "Runaway Bride" is somewhat like Pretty Woman, but it's a little different. For one thing "Runaway Bride" has a lot more comedy. The story is intriguing and you'll be wondering when Maggie is gonna make her next runaway, or if she'll ever get married and not run away. Julia Roberts and Richard Gere do a great job of acting and they have a good supporting cast. That along with an interesting plot make this a good movie and I recommend anybody to watch "Runaway Bride" when you get a chance, it's a good movie. NOTE: That was my Amazon review from the year 2000. Funny how a couple years later the real life runaway bride was all over the news, eh?
Jason Owens
Super Reviewer
actually good, cool scene with miles davis record
Runaway Bride Quotes
| | |
| --- | --- |
| Ellie: | (Maggie has left her groom standing at the altar, and has jumped aboard a FedEx truck) Where is she going? |
| Ellie: | Where is she going? |
| Fisher: | I don't know, but she'll be there by ten thirty tomorrow. |
| | |
| --- | --- |
| Grandma: | (about Ike) I like his tight but. |
| Grandma: | I like his tight butt. |
| Maggie Carpenter: | Grandma! |
| Grandma: | Well, I do. |