Runaway Jury
(2003)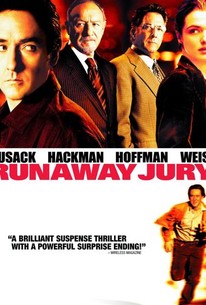 Movie Info
When a young widow in New Orleans brings a civil suit against the powerful corporate consortium she holds responsible for her husband's murder, she sets in motion a multi-million dollar case. But it's a suit that may be won even before it begins--based solely on the selection, manipulation and, ultimately, the attempted "theft" of the jury. Representing the widow is Wendall Rohr, a courtly Southern lawyer with a moral center and a heartfelt passion for the case he's presenting. His opponent is ostensibly the attorney representing the corporation. But in reality, defense counsel is only the front man for Rankin Fitch, a brilliant and ruthless jury consultant. At a high tech command center set up in an old French Quarter warehouse, Fitch and his team work on the surveillance and assessment of potential jurors. He will know everything about their lives, and strategically manipulate the jury selection process. The only acceptable result is the perfect jury to vote in favor of his client. Fitch and Rohr soon realize they're not the only ones out to win the jury. One of the jurors, Nick Easter, seems to have his own plan for swaying the panel. And a mysterious woman known only as Marlee contacts both Rohr and Fitch telling them the jury's for sale to either of them--and that the verdict won't come cheap. While the case is argued in court, a dangerous cat and mouse game begins to play out in New Orleans' French Quarter. Rohr's morality put to the test, and Fitch is poised to cross the line from selecting a jury to stealing it--no matter who gets hurt in the process.
News & Interviews for Runaway Jury
Critic Reviews for Runaway Jury
Audience Reviews for Runaway Jury
I thoroughly enjoyed this movie. You're constantly engaged as this tale takes different twists and turns to keep you guessing. Highly recommend.
Film Crazy
Super Reviewer
½
Thrilling dramatic thriller, Runaway Jury is a worthwhile film to watch that boasts a great cast of talented actors and a well constructed story. I thought that this was a very entertaining film, one that was gripping from start to finish, and always kept you on the edge of your seat. The mix of thrills, mixed with the courtroom aspect of the story goes well hand in hand, and it makes for an even more compelling picture. Runaway Jury is not perfect, but for the most part, it's a well crafted dramatic thriller that is elevated by its cast, which makes you forget the film's shortcomings. Dustin Hoffman and Gene Hackman give the film's strongest performances, especially Hackman who is intense in his role, and he really nails the character he portrays. Overall, the film is well done, entertaining, and tells an engaging story that is sure to appeal to viewers that enjoy a good courtroom drama. Although it doesn't break ground in this genre of film, Runaway Jury is yet another perfect example of a well executed drama that has a story set in a courtroom. At times the film could have been refined, but overall, I was very much entertained, especially, like I said before, the performances here are magnetic, and make up for the weaker aspects of the movie. I've only seen one film by director Gary Fleder before this one, and here he delivers a terrific drama that manages to really be entertaining enough despite its flaws, and it's one of those cases where the performances save the film from being a total bore, as the story itself is nothing too elaborate. Runaway Jury has its weak parts, but it's a worthy viewing, and it's a bit underrated as well, it may not be the best courtroom drama, but it's not the worst either.
½
A decent courtroom thriller based on John Grisham's 1996 novel. Sure the premise stretches plausibility but the overqualified cast (John Cusack, Gene Hackman, Dustin Hoffman) do a fantastic job giving the proceedings depth and intrigue. Nothing too life changing but enjoyable on a rainy day.
Christopher Heim
Super Reviewer
Runaway Jury Quotes
| | |
| --- | --- |
| Marlee: | (last lines) I wanna go home. |
| Marlee: | I wanna go home. |
| Nick Easter: | (last lines) Let's... let's go home. |
| Nick Easter: | Let's... let's go home. |
| | |
| --- | --- |
| Rankin Fitch: | Trials are too important to be left up to juries. |
| | |
| --- | --- |
| Rankin Fitch: | Everybody loses, just not me. |
| | |
| --- | --- |
| Rankin Fitch: | What do you hope to achieve if you win? You gonna bring Jacob Wood back to life? No. You just ensure that his wife goes to the cemetery in a better car, and that the heel that she snaps on the way to the graveside belongs to a $1,200 shoe. You get your name in the paper. But Jacob Wood and all the other gun violence victims remain rotting in their crypts. |