The Running Man
(1987)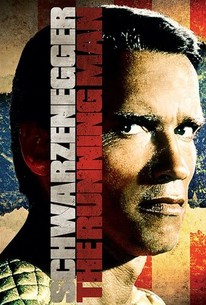 Movie Info
An unjustly accused prisoner in 2019 is given a slim chance at freedom if he enters a battle-to-the-death on a television game show. Dawson steals the show as the slimy host!
Critic Reviews for The Running Man
Audience Reviews for The Running Man
Probably the first Arnie vehicle I ever saw as a kid and even then I thought it was average. Yes I know this could be seen as heresy but I must confess to never thinking a great deal about this film despite being a life long Arnie fan. We all know the score with this film by now. The plot is based loosely on a Stephen King novel which is all about America being a police or totalitarian state, huge divides between the rich and the poor and of course death and violence being a popular much watched sport on TV. So basically a futuristic view on the ancient Roman civilisation and their bloody culture. If you think about it its the perfect role for Arnie and various other muscle men just like many other Arnie films, this film pretty much started that craze. Today this kind of story is completely unoriginal but back then it was almost the first of its kind. To be fair its a videogame adaptation all the way, Arnie's character must face each stalker one by one, each has their own unique skill or weapon and they all have their personal level or stage as it were. Guess what Sub Zero's stage looks like? The stalkers are pretty cliched and generic now when you look back, Fireball Sub Zero Dynamo Buzzsaw and Captain Freedom, not hard to figure out what they all do...accept for Freedom perhaps. A pumped bunch to say the least, Ventura looks full on steroids with his silly wig whilst Brown has a ridiculous wig himself (I think). The other stalker cast members aren't as famous accept for Charles Kalani Jr. perhaps but 80's female action sidekick regular María Conchita Alonso alongside Yaphet Kotto hold their own. Of course the film is made by the excellent performance of Richard Dawson who takes a creepy direction on what was his current job at the time as a gameshow host. Not only does Dawson ham it up nicely but he adds a very eerie, sadistic, two faced approach to the role. Its actually quite fun to watch him crawl and grovel to the audience. A real slime ball deviously charming the gullible live audience, whilst virtually blackmailing them for their trust and ratings by lavishing easy prizes upon them with seemingly genuine generosity. It did make you wonder if this was how real gameshow hosts behaved behind closed doors but I imagine that was the goal. The film does look pretty cheap, it did even back then. Sets are not much more than big empty spaces with stark lighting effects and piles of rubble everywhere. Hell even the costumes look like they've been handmade by the cast themselves. Lots of spandex, a basic ice hockey uniform, lots of leather n chains for background thugs and the most bizarre concept for Dynamo who is covered in what looks like Christmas tree lights stuck on transparent plastic body sections. Why does he sing opera? judging by his helmet its a homage or calling to 'Ride of the Valkyries' and the character is clearly trying to impose fear and terror on his pending victims as he rides his buggy thing into battle. Doesn't work too well though huh. Quick one for you, who on earth knows what Captain Freedom's outfit was suppose to do or be? looked like something out of He-Man. There's a lot more hinting at moments than actual visual sequences but there is the odd classic moment. I'm sure everyone recalls the infamous head explosion sequence, the ultra fast toboggan thing that transports Arnie down to the gauntlet game zone and Arnie slamming a pen into some scrawny pen pushing suits back...wince moment...ouch! Its your classic dystopian futuristic 80's action flick obviously, with the classic update of gladiatorial battles for the blood thirsty masses. Many have copied it but clearly this borrowed from other sources also ('Escape from New York' visually). Jammed packed with all the Arnie one liners you could want, dancing big haired blondes, some good bloody moments and a perfectly sleazy performance by real ex-gameshow host Dawson as the manipulative gameshow host Killian (nasty sounding name also). Predictable of course but its fun to watch the audience and viewers slowly get behind Richards as he defeats the stalkers one at a time. Watching Killian and his yes men squirm as they know Richards is coming to get them. A bit silly how this one act of rebellion seems to bring down the whole corrupt system as the resistance starts to broadcast the truth and everybody just believes it straight away but hey...its an Arnie film. 'I told Killian I'd be back. I wouldn't want to be a liar'
Phil Hubbs
Super Reviewer
Effective Sci Fi action that manages to be entertaining despite its lack of originality, The Running Man is another Arnold Schwarzenegger vehicle that I would recommend purely for fans of the actor. Although far from perfect, this is a pleasant popcorn film that is pure 80's. The film looks a bit dated; nonetheless, there are still relevant aspects that ring out today. Arnie's performance is pretty good, but I have to admit, it's not one of his best either. The Running Man, is your typical ass kicking Schwarzenegger film, and it does the trick, and for genre fans, it's a must watch. Despite the movie's shortcomings, it's worth seeing if you enjoy 80's action flicks, then give this one a shot. The story is well executed, but like I said, is never anything original. The film nonetheless works due to Schwarzenegger's performance, which has the unique touch that he always brings to his roles. Sure, it's not his best work, but it's fun for what it tries accomplish, and it's a movie that is action packed from start to finish. And for action buffs, you can't ask for more. Some elements of the film stand out, and it's one of those movies that seems to be forgotten from Schwarzenegger, and unless you're a diehard fan of his work, then this one seems to pop up. Well, it's a flawed film for sure, and it's a bit predictable too, but it's 80's action for what it is, and genre films likes nowadays are rare. So, if you enjoy a good old fashioned action picture or you're a fan of Schwarzenegger, then buckle up for an entertaining roller coaster ride that's worth taking.
It is the year 2017. "The Running Man" is a deadly game no one has ever survived. But..... Schwarzenegger has yet to play. Good Movie! Loved the 80's look on everyone involved. The story was unique and original. I love 80's films! In the year 2017, the world economy has collapsed. The great freedoms of the United States are no longer, as the once great nation has sealed off its borders and become a militarized police state, censoring all film, art, literature, and communications. Even so, a small resistance force led by two revolutionaries manages to fight the oppression. With full control over the media, the government attempts to quell the nation's yearning for freedom by broadcasting a number of game shows on which convicted criminals fight for their lives. The most popular and sadistic of these programs is "The Running Man," hosted by Damon Killian. When a peaceful protest of starving citizens gathers in Bakersfield, California, a police officer named Ben Richards is ordered to fire on the crowd, which he refuses to do. Subdued by the other officers, the attack is carried out, and Richards is framed for the murder of almost a hundred unarmed civilians. Following a daring jail break months later, Richards is captured once again and forced to appear on "The Running Man" with three other convicts. With their help, he fights his way through a cadre of sadistic gladiators hunting them down through the ruins of a Los Angeles earthquake, but not promising Killian that he'll return to settle the score when the show's host double-crosses him. In the meantime, the contestants must search through the ruins for the resistance in the hopes of finally broadcasting the truth about the government.
The Running Man Quotes
| | |
| --- | --- |
| Amber Mendez: | They were last season's winners! |
| Fireball Stalker: | No, last season's losers. |
| | |
| --- | --- |
| Dynamo Stalker: | You thought it was funny out there in the zone? What's the matter now, bitch! Why aren't you laughing? |
| | |
| --- | --- |
| Damon Killian Running Man Game-Show Host: | You bastard! Drop dead! |
| Ben "Butcher of Bakersfield" Richards: | I don't do requests. |
| | |
| --- | --- |
| Ben "Butcher of Bakersfield" Richards: | Hello there, Cutie pie. One of us is in deep trouble. |