Rush
(1991)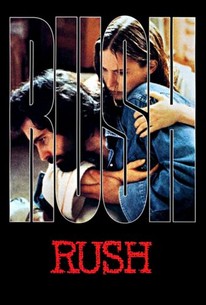 Movie Info
Based on a gritty, semi-autobiographical novel by author Kim Wozencraft, this crime thriller was adapted for the screen by noir novelist Pete Dexter and marked the directorial debut of producer Lili Fini Zanuck. Jennifer Jason Leigh stars as Kristen Cates, a rookie police officer recruited to partner with Jim Raynor (Jason Patric), an undercover Texas cop trying to infiltrate the criminal ring of major drug dealer Will Gaines (Gregg Allman) in the 1970s. What Kristen isn't told is that, as part of his deep cover masquerade, Jim must take drugs in order to be convincing and, unsurprisingly, has become an addict. Although this dangerous practice is not acceptable police procedure, Jim and Kristen's zealous superiors Larry Dodd (Sam Elliott) and Donald Nettle (Tony Frank) are obsessed with taking Gaines down because he has corrupted the daughter of a prominent local citizen. Jim and Kristen, who fall in love and move in together, befriend a petty car thief, Walker (Max Perlich), who has ties to Gaines. Since they both become drug addicts, Jim and Kristen's case makes little progress, until they clean up and convince Walker to turn on Gaines. Their investigation becomes tainted, however, when they are pressured from above to manufacture false evidence against their target. The soundtrack for Rushcontained the hit song "Tears in Heaven" by Eric Clapton.
Audience Reviews for Rush
½
A truly excellent, authentic, engrossing, and relentlessly dark depiction of drugs and the criminal justice system. There are no true "good guys" to be found, and the bad guys are found on both sides, moral ambiguity is rampant. The film does a fantastic job of showing how fine the line often is, and how, in the name of moral relativity, it's often crossed. The film captures a fantastic tone throughout, and is powerfully acted by both Jason Patric and Jennifer Jason Leigh, who have a gripping chemistry together. The script is intelligent, being based on a semi-autobiographical novel, and offers poignant insight. One of the best "in too deep" films out there. 4.5/5 Stars
Jeffrey Meyers
Super Reviewer
½
Critically insane story of an Texas undercover narcotics police sergeant Jim Raynor (Jason Patric) that recruits a fresh young police rookie Kristen Cates (Jennifer Jason Leigh) to infiltrate and take down a suspected drug dealing crime boss (Gregg Allman). Between getting strung out and collecting evidence against the crime boss...the pressure escalates on the pair to manufacture fictitious evidence to get this crime boss off the streets. As the pressure increases the assistance of their superior (Sam Elliot) and his higher ups...becomes more evident that manufacturing police evidence against a suspect, is against police protocol...the heat gets turned up on whether the crime boss will go behind bars but what will be the cost of the risky effort? This fairly slow moving drama will rock you to the edge of your seat and suspense you with with a rolling sound track...see it!
Fascade Fiveoneeight
Super Reviewer
I liked this film when it came out in '91, and it holds up. Jason Patric and Jennifer Jason Leigh star in this tale of two undercover cops(narcotics agents) who get caught up in the lifestyle as they are in pursuit of a shady bar owner who may very well be the biggest drug pusher in the area, as well as other dealers with the help of a friend and user. The performances by Patric and Leigh are brilliant in this dim film based on true events of two narcotics agents in 1974 rural Texas who literally take their work home with them which is clearly nothing but trouble in many ways. Eric Clapton's bluesy score adds to the time and tone of the film as well.
Rush Quotes
There are no approved quotes yet for this movie.