Rush
(2013)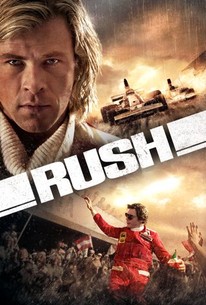 TOMATOMETER
AUDIENCE SCORE
Critic Consensus: A sleek, slick, well-oiled machine, Rush is a finely crafted sports drama with exhilarating race sequences and strong performances from Chris Hemsworth and Daniel Brühl.
Movie Info
Two-time Academy Award (R) winner Ron Howard (A Beautiful Mind, Frost/Nixon) teams once again with two-time Academy Award (R)-nominated writer Peter Morgan (Frost/Nixon, The Queen) on Rush, a spectacular big-screen re-creation of the merciless and legendary 1970s Formula 1 rivalry between gifted English playboy James Hunt (Chris Hemsworth of The Avengers, Thor) and his disciplined Austrian opponent, Niki Lauda (Daniel Brühl of Inglourious Basterds, The Bourne Ultimatum). (c) Official Site
News & Interviews for Rush
Audience Reviews for Rush
Again its another title that doesn't really come across too well for me, is there a reason behind this? I'm guessing there must be because on its own it sounds a bit weak honesty. So back in 1976 (two years before I was created) there were these two F1 drivers. James Hunt a good looking, blonde haired, blue eyed aristocratic British playboy type, and Niki Lauda, a dark curly haired not too good looking Austrian. This is a biographical about their roots in racing and mainly the 1976 F1 season which was a face-off between the two, never mind the rest of the field, it was all about these two. It all kicks off in the UK in Crystal Palace Park, South London where both men are are already at each others throats in F3 racing. This is where we meet up with both drivers and find out what cliched caricatures they really are. This is a true story yet its amazing how comicbook-esque these blokes were, complete polar opposites. Hunt is good looking with his flowing blonde locks, he's brash, arrogant, always up for a bit of fisticuffs plus he smoked and drank, a complete wildcard. On the other hand Lauda was the stereotypical cold, calculating, precise Germanic opponent that could easily be seen as the Dick Dastardly of the story. Seriously you couldn't have written it any better really, the only similarity was the fact both men came from wealthy backgrounds so you don't have the rags to riches tale here. We follow the duo as they both enter F1, Hunt with via his small racing team Hesketh and Lauda buying his way in eventually joining Ferrari. After a brief problem trying to enter the 76 F1 season when Hesketh closes down due to no sponsor and Hunt having to join McLaren...the heat is on. The season plays out race by race (almost) with both drivers virtually neck and neck (kinda) to its climatic finale and of course including the horrendous accident that Lauda suffered in Nurburgring. I will be honest right off the bat here, I have no interest in F1 or anything similar to that, although I am a bit of a car man, but mainly Japanese super saloons. So I went into this expecting to be rather bored, how wrong could I have been! The onscreen chemistry between Hemsworth and Bruhl is crackling, every time they bump into each other I was sucked into their world, I wanted to know more yet I don't know why. Its not like I understood everything they were talking about, I'm not a petrolhead, but it was all so exciting and dare I say...manly. I mean seriously...Hunt was a man's man, a true roguish daredevil and its infectious, Hemsworth just about portrays that trait well enough to make you wanna leap into an F1 car and blaze away. Although from what I've read it seems the movie has tamed this larger than life personality down a tad, plus his voice was off the mark alas. I kinda think Hemsworth may have gotten his part down to the fact he is simply blonde and a hot ticket right now in all honesty, something inside me thinks if they had looked a bit harder and used an unknown it might have been better. I also must give major kudos to Bruhl for his portrayal as Lauder, the perfect foil to Hunt. I loved how Bruhl did seem to capture Lauda's voice, that stout proper Germanic accent with a slight lisp, very impressive and hard work I'm sure. Bruhl also looked very much like the real deal with his curly hair and the infamous slightly protruding front teeth of Lauda. Its really amazing how similar he looks to the man himself, it really sets the tone and mood for the movie. What really impresses is the movies visuals, right from the start in 1970 everything is faithfully recreated with real cars used throughout. Its really something to see all the old outfits, advertisements, company logos, racing strips and colours, vehicles, track details and of course the classic F1 cars. I fully remember seeing F1 cars with cigarette advertising liveries on them, the old red and white Marlboro, the all black and gold John Player Special, then of course all the classic petrol/oil logos like Shell, Mobil and Elf etc...a real blast from the past and very much enjoyed. On top of that the race sequences were highly engaging and thoroughly exhilarating (I didn't know who won what so even better), everything looked really authentic, really realistic and very well produced, I can't fault anything. There is never really a moment where I wasn't completely...for lack of a better word...engaged! Despite Hunt seemingly coming across as the good guy in the story that aspect switches from scene to scene. Sometimes Hunt is clearly the man and Lauda is too much of an obsessed rude dick, thinking of racing as more of a meticulous job. Sometimes you feel for Lauda being the more insecure, less attractive, more lonely guy whilst Hunt is showing off for the cameras being an ass. It totally swings in roundabouts which is interesting but ultimately they both played off each other to raise their games, to get better, they ultimately need each other, and of course neither one is the bad guy. Sure there are some moments that are inaccurate such as Hunt beating up a reporter, but again on the other hand there is much here that is very accurate such as Lauda's near-fatal crash. So yes I'm going there, its happening, I'm giving this sports biopic a full on perfect score. I totally and utterly recommend this even if you don't follow F1 or even like cars, I don't follow F1 but I found it absolutely riveting. A classy super fast super slick British 'Top Gun' with tyres type flick, corking stuff old chap. Now I await the same excellence for motorcycle world champion Barry Sheene, F1 world champion Nigel Mansell and of course daredevil Evel Knievel.
Phil Hubbs
Super Reviewer
Knew nothing of Formula 1 racing going in, but this adrenaline-fueled drama from Ron Howard (Apollo 13, Cinderella Man) benefits greatly from the absolutely riveting performances of it's two main leads. Chris "Thor" Hemsworth and Daniel Bruhl (Inglorious Basterds) play legendary F1 rivals James Hunt and Niki Lauda respectively. Both are perfectly cast and look exactly like their real-life counterparts (Seriously, look up on google images, it's uncanny). The racing scenes are also spectacularly shot with many unique angles but at it's heart, the film is a fascinating character study of two flawed men who are both fueled by their strong passion for racing.
Christopher Heim
Super Reviewer
½
Absolutely riveting, Rush pits two drivers with polar personalities against one another but manages to have the audience cheer for both sides equally as their nail biting rivalry grows throughout the film. Rush isn't just an adrenaline fueled competition between two larger than life racers though, It's more so a poignant character study as they're both sorely flawed yet romantically idolized. Hemsworth and Bruhl are simply magnificent in their roles, truly convincing us that these people lived and breathed. If you love a great character study and a plot that manages to intertwine it with action packed tension then this film is most definitely for you. It's smart, exciting and a real treat to look at.
Drake Tsui
Super Reviewer
Rush Quotes
| | |
| --- | --- |
| Peter Hunt: | What's the point of having a million cups and medals if you don't have any fun? How is that winning? |
| | |
| --- | --- |
| Lord Hesketh: | They could never have imagined, those pioneers who invented the automobile that it would possess us like this, our imaginations, our dreams. Nursie, men love women, but even more than that, men love cars. |
| | |
| --- | --- |
| Niki Lauda: | I'm not in a hurry, I'm not being paid, why would I drive fast? |
| | |
| --- | --- |
| Niki Lauda: | Of course he didn't listen to me. For James, one world title was enough. He had proved what he needed to prove. To himself and anyone who doubted him. And two years later, he retired. When I saw him next in London, seven years later, me as a champion again, him as broadcaster, he was barefoot on a bicycle with a flat tire, still living each day like his last. When I heard he died age 45 of a heart attack, I wasn't surprised. I was just sad. People always think of us as rivals but he was among the very few I liked and even fewer that I respected. He remains the only person I envied. |