Ruthless People
(1986)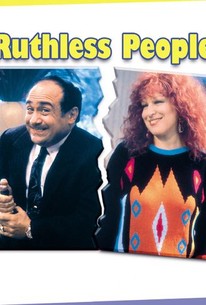 TOMATOMETER
AUDIENCE SCORE
Critic Consensus: It's sometimes crude and tasteless, but Ruthless People wrings acid-soaked laughs out of its dark premise and gleefully misanthropic characters.
Movie Info
The last film to be co-directed by Jim Abrahams, David Zucker, and Jerry Zucker, Ruthless People stars Bette Midler (capitalizing on her comeback performance in Down and Out in Beverly Hills) as Barbara, a spoiled rich woman who is kidnapped by the kindly Ken and Sandy Kessler (Judge Reinhold and Helen Slater). Barbara's forceful husband Sam (Danny DeVito) has ripped off the Kesslers and they decide to hold Barbara for ransom. Sam, who hates his wife, refuses to pay. Eventually Barbara befriends the Kesslers and together they figure out how to exact revenge upon the obnoxious Sam. Bill Pullman makes his film debut here as a very dim, would-be criminal.
News & Interviews for Ruthless People
Critic Reviews for Ruthless People
Audience Reviews for Ruthless People
½
Without all the madness of Airplane, The Naked Gun or Top Secret, the trio: Jim Abrahams and David and Jerry Zucker made a terrific intelligent comedy, with the misunderstandings between the characters, the complex plot, a funny cast (with the best of Danny DeVito) make Ruthless People one of the greatest comedy film of the 80's and of the Touchstone Pictures. Fresh.
Lucas Martins
Super Reviewer
½
Ruthless People is a fun, entertaining comedy film that has good gags going for it. I enjoyed the film, but it did lack in some areas, and it could have been a bit better. However this is a good little comedy that was directed by the guys who made Airplane! However this isn't their best work. Bette Midler is very good here, and she makes the film worth seeing. I, on the other hand, never did enjoy Devitto's work, but I like him here, and he is pretty funny in his part. The film manages to be good enough to be a worthwhile comedy to watch, and if you're looking for a pleasant time waster, then give this one a shot. Although not the greatest comedy, there are enough effective elements to make this one a memorable flick to watch. I even if at times the film's material lacks, the cast do affine job to elevate this film into very humorous moments that works throughout. Everything you'd expect from the directors is present and there's enough zany humor to make this one worth seeing despite its flaws. I liked the film, and it's smartly constructed and it manages to rely more on its great cast, which are just funny on-screen to really make it standout above its flaws. Enjoy this crazy ride. Middler is great here, and she is one of the film's biggest strengths with a well written script that has more good things going for it than bad, directors, Jim Abrahams, David and Jerry Zucker craft a fine little comedy that is sure to please comedy lovers.
½
While not as entirely crazy and hilarious as their Naked Gun films, this comedy by the Zucker, Abrahams, Zucker team still shows some trademarks of the same kind of humor: wonderfully ditsy main characters, fights with kitchen utensils and plenty of mix-ups. While Frank Drebin's adventures are more like a 90 minute collection of gags, the plot here is actually quite smart and make use of all of its characters and the chaos that entails. Bette Midler is particularly funny and outshine her two kidnappers easily. The clever solution to the entire confusion is also quite clever. Soundtrack and look of the film make it a perfect example of the 80s comedy that may not have aged well but still have that particular charm and the jokes still work years later.
Ruthless People Quotes
| | |
| --- | --- |
| Lt. Bender: | That might be the stupidest man on the face of the planet. |
| Lt. Walters: | Maybe we should shoot him. |