RV
(2006)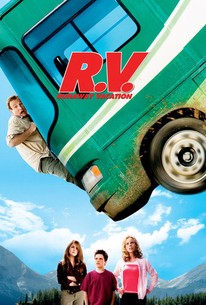 TOMATOMETER
AUDIENCE SCORE
Critic Consensus: An unoriginal and only occasionally funny family road-trip movie, RV is a mediocre effort that not even the charisma of Robin Williams can save.
Movie Info
A white-collar workaholic deceptively persuades his family to forgo their much-anticipated Hawaiian vacation for a cross-country road trip in a fully loaded RV, during which they discover the true meaning of family bonding, in Men in Black director Barry Sonnenfeld's family-friendly road comedy starring Robin Williams, Jeff Daniels, and Cheryl Hines. Bob Munro (Williams) is overworked and overstressed, and though his proposal to hit the road with his wife and two children at first sounds like a heartfelt bid to get better acquainted with his increasingly dysfunctional family, it soon becomes obvious that he had more career-oriented goals in mind when planning the trip. The Munros have always managed to get by in the past, though, and as they slowly become immersed in RV culture with a little help from a full-time troupe of Winnebago warriors, they might just make it to the Rocky Mountains without driving each other totally insane. ~ Jason Buchanan, Rovi
Audience Reviews for RV
½
Without my little review here sounding too cliched this film could be and pretty much is a sequel to the classic Chevy Chase vehicles 'National Lampoon's'. Its pretty much a by the numbers light hearted comedy set in the wilderness as Robin Williams tries to give his family a fun packed vacation and spent more time with them. Despite being very very predictable and completely unoriginal the film is actually quite amusing and very watchable. Yes you know what will happen with every setup and yes Williams is being his own 'Clarke Griswold' but damn it its fun. Williams is a likeable fun guy and the family casting isn't too bad either, Hutcherson as a body building obsessed wannabe 'homie' is actually quite funny but Jeff Daniels as the slightly religious, thick tashed rodeo type does grate, his character and family I guess are the 'cousin Eddie' n co of the plot. Sonnenfeld is a good director of family films and he does a fine job here it has to be said even if the film is nothing new.
Phil Hubbs
Super Reviewer
R.V is a fairly enjoyable comedy. I didn't expect that the film would be funny, entertaining or good for that matter. But I was pleasantly surprised. Robin Williams and Jeff Daniels are great here, and it's what makes this film work. R.V. is underrated and has good laughs because of the lead. Robin Williams is always a pleasure to watch on-screen, and in this film he brings on good laughs. R.V. is lot of fun, and is a good comedy for what it is. I enjoyed the film, and found that there were some good comedy bits here and there. R.V isn't a great film, but it's far from an awful film. The film is a good for what it is, and it's lots of fun. The film is entertaining and though it's nothing great, I think the film isn't as bad as what many people have claimed it to be. R.V. is an entertaining film that has a decent cast with a good lead, and Robin Williams definitely makes this film work. I enjoyed the film, and It's far better than what many people have claimed it to be. This a fun film to watch, and is underrated in my opinion. The film is much better than you might think. Of course, it's not a perfect comedy, but it definitely is a good one. I've seen worse films than this. R.V. has a good cast that keeps the jokes rolling, and the fact that Robin Williams stars in this is what really makes this film work. A good, fun and entertaining comedy film that shouldn't easily be dismissed.
½
Not funny or fun, I did not enjoy this, horrible film.
Jim Careter
Super Reviewer
RV Quotes
There are no approved quotes yet for this movie.