Saboteur
(1942)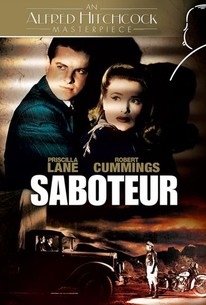 Movie Info
In this film, aircraft plant worker Robert Cummings is accused of sabotaging his factory and causing the death of a co-worker. Actually, Cummings is the fall guy for a ring of Nazi spies, headed by an above-suspicion American philanthropist. Our hero goes on a cross-country chase after the genuine saboteur.
Critic Reviews for Saboteur
Audience Reviews for Saboteur
½
Another decent piece of American propaganda made by Hitchcock during WWII following his Foreign Correspondent - and certainly a more consistent film than that one -, despite some trouble with pacing and the fact that for about every two or three hits, there is a miss.
Carlos Magalhães
Super Reviewer
½
A film that takes you on a journey towards the top of the statue of liberty! The beginning starts with an enormous fire and carries that momentum for the next 2 hours.
½
This is basically a proto version of North By Northwest that is not *quite* as brilliant, sticks out as a being a little too heavy with the propaganda (it did come out in 1942 and invovles the war), and is even a bit corny (maybe for it's own good. However, this is nevertheless a rip roaring thriller, and, while Hitch did this exact same thing many times over, this is one of the variations that really rocks. Can't really say why either. Maybe it's just the fact that, as I said, it was a prototype for the real masterpiece, kinda like if Beethoven ever recorded a rough demo version of Moonlight Sonata or something. We've got an airplane factory worker who goes on the run after being blamed for a fire bombing at his workplace that causes lots of destruction and takes the life of his best friend. So of course he goes on the hunt for the real perpetrator who happens to be a Nazi sympathizer, and gets caught up in a major plot involving those who hate America and her citizens all because of their freedom. So yeah, this might be a propaganda piece, but unlike NXNW, this one doesn't come off quite as convoluted with the plot specifics and red herrings. Robert Cummings is no Carey Grant, but he's likeable enough, as does a fine job. Priscilla Lane is also wonderful as this film's Blonde. This film also had the distinction of being Hitch's first film with an all American cast. Also, to really add to the tension, the climax takes place within and around the confines of the Statue of Liberty. Man, this really IS propaganda! All in all, this is quite a ride. Definitely give this one a shot.
Chris Weber
Super Reviewer
Saboteur Quotes
There are no approved quotes yet for this movie.