Safe
(2012)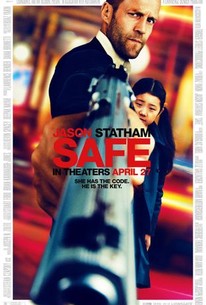 TOMATOMETER
AUDIENCE SCORE
Critic Consensus: While hard-hitting and violently inventive, Safe ultimately proves too formulaic to set itself apart from the action thriller pack -- including some of its star's better films.
Movie Info
A second-rate cage fighter on the mixed martial arts circuit, Luke Wright lives a numbing life of routine beatings and chump change...until the day he blows a rigged fight. Wanting to make an example of him, the Russian Mafia murders his family and banishes him from his life forever, leaving Luke to wander the streets of New York destitute, haunted by guilt, and tormented by the knowledge that he will always be watched, and anyone he develops a relationship with will also be killed.

But when he witnesses a frightened twelve-year-old Chinese girl, Mei, being pursued by the same gangsters who killed his wife, Luke impulsively jumps to action...and straight into the heart of a deadly high-stakes war. -- (C) Lionsgate
News & Interviews for Safe
Audience Reviews for Safe
Safe had the potential of being a truly impressive piece of action cinema, instead it's an underwhelming mediocre movie that is formulaic and just doesn't deliver anything memorable or truly exciting. Statham is one of modern actions biggest stars, and he is talented at making fun, thrilling picture but like every other actor, he does have a few films that are not that great. Safe is one of them, and it's a film that never realizes its potential. The film runs at a very short run time, and it pack far too much, therefore the story tries to do a lot, but it never delivers because the filmmakers don't have a steady pace going in the film. What makes this such a lacking effort is the fact that it doesn't try to put emphasis on good storytelling with effective action. The result is a tiresome effort that simply doesn't stand out. As a whole, the film does have kinetic action, but, it just doesn't hold up compared to other films in the genre. Statham has made better films than this, and if you're expecting something good here, you won't find it. Safe tries to be far too ambitious, yet falters because it packs far too many unrealized ideas into a short period. The film could have been great, but if the length of the time would have been longer, the plot could have steadily build up and with the trilling action, would have made it a terrific film. In the end, the film just doesn't satisfy and it is a mediocre action film that leaves a lot to be desired.
½
Safe is your typical Jason Statham movie but with steroids. If you have seen any of his newer films, then this movie will not surprise you. But like most of his films, Safe is a nice throwback to the heyday 80's action films. This film simply offers up a good time as we see Statham get involved with the Chinese and the Russians. The stunts are pretty good here as well as the cinematography since we see some cool shots of the action. Boaz Yakin's film is about a former New York detective who protects a young Chinese girl from the fore-mentioned ethnic groups because she has something both sides want and they will go to war over this. Jason Statham is Jason Statham in this film. He does nothing but kick butt and show people why he is not to be trifled with. He is getting better as an actor and is beginning to show some more emotional maturity. Overall, this is a solid action film that while it delivers nothing new, it still delivers the goods. It has everything an action junkie could want from good choreography to corrupt policemen. Essentially, if you don't like Jason Statham you won't like this film. But, I believe this is a good action film. I rate this film 4 1/2 stars 3-04-14
Bruce Bruce
Super Reviewer
½
Boaz Yakin's Safe is anything but safe.
Sporting a run time just under 90 minutes and a frantic pace to go with it, Safe runs red lights and spills the blood to keep the thrills at a high level. The first 5 minutes is a tough swallow, as it employs erratic scene transitions one after the other to reveal characters and locations. Fortunately, things calm down. Not calm as a vanishing hurricane, but more a hurricane being downgraded from a level 5 to a level 4. Spurts of nifty scene transitions and cinematography are still in the picture.
The action is a plenty with a high body count. It is a much welcome sight to make up for the mediocre storytelling.
Jason Statham is nothing new. He does what he does best and that is star in this type of movie. The rest of the cast is more or less forgettable.
Safe fits right in as another action thriller starring Jason Statham. Nothing more, nothing less.
Safe Quotes
| | |
| --- | --- |
| Luke Wright: | Been in restaurants all night...All I got served was lead. |
| Luke Wright: | Been in restaurants all night... All I got served was lead. |
| | |
| --- | --- |
| Quan Chang: | I want the girl dead or alive!Bring her to me or your head comes off! |
| Quan Chang: | I want the girl dead or alive! Bring her to me or your head comes off! |
| | |
| --- | --- |
| Luke Wright: | I'll have a white russian... and a fork. |