Safe Haven
(2013)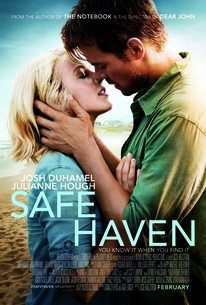 TOMATOMETER
AUDIENCE SCORE
Critic Consensus: Schmaltzy, predictable, and melodramatic, Safe Haven also suffers from a ludicrous plot twist, making for a particularly ignominious Nicholas Sparks adaptation.
Movie Info
An affirming and suspenseful story about a young woman's struggle to love again, Safe Haven is based on the novel from Nicholas Sparks, the best-selling author behind the hit films The Notebook and Dear John. When a mysterious young woman arrives in a small North Carolina town, her reluctance to join the tight knit community raises questions about her past. Slowly, she begins putting down roots, and gains the courage to start a relationship with Alex, a widowed store owner with two young children. But dark secrets intrude on her new life with such terror that she is forced to rediscover the meaning of sacrifice and rely on the power of love in this deeply moving romantic thriller.
News & Interviews for Safe Haven
Critic Reviews for Safe Haven
Audience Reviews for Safe Haven
½
Save Haven is a normal Nicholas Sparks movie - damaged girl finding love with a good looking widower - even in the face of the corrupt cop ex-husband hunting her. I didn't like the last five minutes of the movie - too much Stephen-King-like.
½
An abused wife flees her sadistic cop-husband and learns to love again with a widower and his kids in what could be a Lifetime movie - complete with big twist ending! - save for the big name actors and director. Julianne Hough shows incredible vibrancy and emotional range out on the dance floor, but in summoning bodily restraint for a film role, she becomes a personality vacuum. Josh Duhamel seems at home enough as the hunky and jovial single dad, and David Lyons really creeps it up as the corrupt and deranged abuser, hot on his wife's trail. The movie is heavy on the folksy charm of a seaside tourist town and only skin-deep with the abuse recovery, but it's still guiltily watchable.
Alice Shen
Super Reviewer
½
You know it when you find it. Very Good Film! The whole film seemed so natural that there was an obvious, stark contrast to the drama and thriller aspect in the end. The script was given a twist, and I sat through most of the film not quiet sure what was going to happen next, it definitely kept me intrigued, although I found it a little slow at a few points, i still walked away liking the film as a whole. I highly recommend it and would go so far as to say it's a must see! Of course the romantic comedy fans will eat it up, but the men who are dragged along might enjoy it more than they think! A young woman with a mysterious past lands in Southport, North Carolina where her bond with a widower forces her to confront the dark secret that haunts her.
Safe Haven Quotes
| | |
| --- | --- |
| Jo: | To the woman my husband loves. If you're reading this, then it must be true, he loves you without a shadow of a doubt or else he wouldn't have given this to you. I can only hope that you feel the same way about him that he does about you. I wanted to write this letter because I wanted you to know one very important thing; I'm so glad he's found you. I only wish I could be there some how to met you, and maybe in some ways I am. Outside of my husband and my two beautiful children, you are the most important person in the world to me because I am gone and they are yours now. You need to take care of them; make them laugh, hold them when they cry, stand up for them, and teach them wrong from right. The thought of you it gives me hope; hope that Alex remembers what it feels like to be young and in love, hope that josh finds someone to fish with again, hope that Lexie has someone to help her on her wedding day. I hope that one day my family will be whole again. And most of all hope that somehow I'm there with all of you, watching over all of you. |
| | |
| --- | --- |
| Jo: | Promise me something Katie, you'll take a lot of pictures and only regret the ones that you didn't take. |
| | |
| --- | --- |
| Alex: | I'm so sorry... just please... stay. Just tell me the truth, just tell me what happened. I don't care, I'm not going to let him hurt you anymore. Listen to me, I'm in love with you. If you stay I promise there's no safer place in the world than with me. You don't have to be scared... I love you... please stay. |
| | |
| --- | --- |
| Katie: | At least I know when it's time to leave. |
| Jo: | You know your right Katie, but some of us don't have that choice |