Safe House
(1999)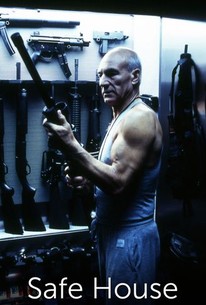 AUDIENCE SCORE
Critic Consensus: No consensus yet.
Movie Info
Patrick Stewart plays Mace Sowell, a retired government operative who possesses damaging information about a presidential hopeful, and holes himself up inside his secure compound because he fears reprisal. In order to protect himself, Sowell has designed a system whereby the information will be released to the public if he is not there to type in a password at regular intervals. This he believes will keep him from being assassinated, but just in case, he stages elaborate self-defense drills with unwitting servants, and tries to convince his family that the explanation he gave them about his career was a cover story to hide his true military affiliations. The problem is, Sowell is also suffering the early stages of Alzheimer's, so his daughter (Joy Kilpatrick) considers his paranoid stories to be delusional ravings. She hires a psychiatrist (Kimberly Williams) to analyze her father and watch over him, in the hopes of easing his dementia. Sowell initially distrusts his new companion, but begins to lower his guard and care for her deeply. Meanwhile, his disease is advancing, and if he can't remember the password, his critical information will be released prematurely and he'll be hunted down by his enemies.
Critic Reviews for Safe House
Audience Reviews for Safe House
½
Don't confuse this with the 2012 film Safe House, but if you do you will find a very enjoyable movie that Patrick Stewart plays a very comical part in. The story itself is interesting, Moral of the story what seems unbelievable is almost always true fact. 4 1/2 stars 8-3-12
Bruce Bruce
Super Reviewer
Safe House Quotes
There are no approved quotes yet for this movie.