Safe in Hell
(1931)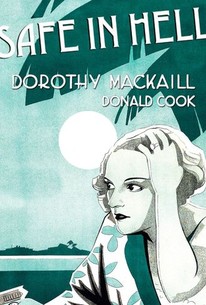 Movie Info
In this grim adult drama, a whore blames herself for the death of one of her dates after she and the client have a fight and she starts a fire. Later a sailor finds himself attracted to her and takes her to a safe tropical island filled with fugitives. All of them begin to eye her. It is there that she sees the man she supposedly killed. This time she kills him for real. As she slowly walks down death row at the story's end, she repents.
Critic Reviews for Safe in Hell
Audience Reviews for Safe in Hell
I liked Dorothy Mackaill in this film; her acting feels natural and her character is feisty when fending off the unwanted advances of men. She's a prostitute, but the back story revealed is that she was once a secretary who was raped by her boss, and it was discovered by his wife. Instead of that resulting in trouble for the boss, she was summarily let go, and then the two of them prevented her from getting work elsewhere, so she resorted to selling herself. He then has the nerve to turn up and ask for her as a client. The two struggle and she accidentally kills him. Her old boyfriend (Donald Cook) turns up at the right time, and the two of them flee for a Caribbean island known for its lack of extradition laws. Whew, and that's just in the first 10 minutes or so. While the story may sound like it's sympathetic to the plight of this poor woman, I found it to be misogynistic and loathsome. The men on the island are all aroused by "the only white woman on the island", and when they're not ogling her or man-spreading (in one scene, almost comically, with chairs all facing her room), they take turns trying to get her into bed. She is expected to remain faithful to Cook, who had to leave her. When one finds out about her past and that she's not a virgin, he feels as if she's played him for a fool and betrayed him by turning her down. (The nerve of her!) The religious morality messages are also heavy-handed. To the horror of being forced into prostitution, the message is trust that God has a plan. To being left alone with a bunch of sex-starved criminals, the message is to keep the faith, and remain chaste. The undercurrent is that the burden is always on this woman, even when she kills someone to prevent being raped. I'm all for pre-code raciness, but the sentiment behind this one just isn't all that pleasant. On top of that, the script is lazy, and the production quality is low. There are far more enjoyable pre-code films, even if one constrains oneself to those directed by William A. Wellman in 1931 (see 'Night Nurse' and 'The Public Enemy'). Frankly, the highlight of the movie was the African-American characters of Nina Mae McKinney and Clarence Muse, who play the innkeeper and porter. They are presented to us as intelligent, playful, and articulate, which was a real rarity in films from this era. Their dialogue was apparently originally written in "Negro dialect", but happily they got away with not performing it that way. McKinney also sings a nice little number, "When It's Sleepy Time Down South".
Antonius Block
Super Reviewer
½
MacKaill is a prostitute who, thinking herself responsible for the death of a client, flees with the aid of her lover to a remote caribbean island. From the opening shot of MacKaill lounging in her underwear you know you're in pre-code territory. Having your leading lady employed in the world's oldest profession would be impossible for a film-maker a couple of years later. Wellman makes use of his limited window to give us one sweat drenched sleaze ridden movie. The unnamed island is a sort of pre-code, low budget Casablanca setting, filled with a wonderful assortment of misfits and slimeballs. Five scurrilous rogues stay in the same hotel as our heroine and each one tries unsuccessfully to get his sweaty palms on her. There's a wonderful moment when, waiting for MacKaill to come down for breakfast, each man turns his chair to face the staircase as if awaiting a cabaret performance. MacKaill spends the first few days fending off their advances and hiding in her room. Unbeknownst to her though, the local hangman, Wallace, has been intercepting money sent to her by her sailor boyfriend, forcing her to eventually start cosying up to the rogues. The landlady, singer McKinney, informs her the rent is due soon, and this being a pre-code flick, we know exactly where it will lead our heroine. Many of these pre-code dramas are reminiscent of film-noir but with one major difference; in the later genre our male leads usually ended up down and out or dead at the hands of a woman, with these movies it's the opposite. This has a particularly downbeat ending which preempts the noir genre by a good decade. Amid all the darkness though there are some comic touches, especially in the desperate actions of MacKaill's would be suitors. McKinney even gets a chance to show her crooning skills with a rendition of "When It's Sleepy Time Down South". Barbara Stanwyck was considered for the lead role but Wellman favoured British actress MacKaill who starred in several tawdry dramas at the time. She would become a victim of the code sadly, as the studios associated her with the immorality of the pre-code days and this cost her many roles.
The Movie Waffler
Super Reviewer
Safe in Hell Quotes
There are no approved quotes yet for this movie.