Sagan
(2008)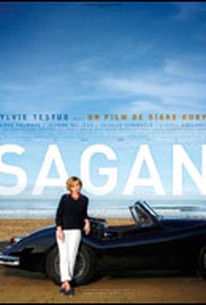 Movie Info
In 1958, Françoise Sagan is not yet 30. Her first novels have made her rich and famous. She leads a frivolous and wild life, surrounded by her group of friends. On Aug. 8 of that same year, at the Deauville casino, she bets her final chips on the number 8 and wins 8 million francs. With this sum, a few hours later she buys the house she has rented for the summer near Honfleur. Without planning to do so, she becomes the owner of the property and vows that nobody will ever drive her away from that place. Why then, 40 years later, is she merely a guest at the house? What events have led the young literary prodigy to end up financially ruined and estranged from all those with whom she squandered the years of her life?
Audience Reviews for Sagan
"Sagan" is an anecdotal and breezy biopic about Francoise Sagan(Sylvie Testud), nee Quoirez, the famed French writer, whose best scene involves a very mischievous dog. Almost as a lark, she writes "Bonjour Tristesse" which turns her into an overnight success and is soon to be a major motion picture starring David Niven, Deborah Kerr and Jean Seberg. I would have liked to have seen a little about this adaptation, as it would have enhanced the surrealism of Sagan's whirlwind life. All is not smooth sailing, however, as she is attacked by critics, who doubt that she in fact wrote her first novel and then her later work as 'minor music.' Otherwise, there is not that much on her writing, giving the emphasis of the movie over to her tumultuous personal life. If she had not spent so much time enjoying herself with her extended family of friends and lovers of both genders, then this could have easily just been another cautionary tale about becoming a success too soon.(She took up an assumed name to write, so her respectable family would not be afraid people thought she was writing about them.) With her first earnings, she buys a sports car, which she eventually crashes. After a win at the roulette wheel, she buys a country estate where Sarah Bernhardt once spent the night. So, it must come as something of a shock when she makes it to old age, despite the copious use of drugs and alcohol(the welcome playing of "One Night in Bangkok" is entirely appropriate), which she never prepared for, encapsulating the very ephemeral nature of life, just as her writing still lives on. (Originally reviewed in the blog section on 6/22/2010.)
Sagan Quotes
There are no approved quotes yet for this movie.