The Saint
(1997)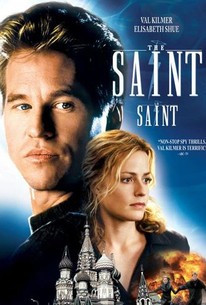 Movie Info
Based on the popular novels about that other suave, globe-trotting man of action, this genre picture from director Phillip Noyce mixed romance and character development with dangerous stunts, geopolitical intrigue, and a variety of elaborate disguises, resulting in an uneven stew of a spy thriller. Val Kilmer is Simon Templar, a classy, cunning master thief and "man of a thousand faces" who cribs his phony names from those of obscure saints and sells his illegal services to the highest bidder. Hired by an ambitious Russian politician (Rade Serbedzija) to steal the formula for cold fusion, Templar falls in love with Dr. Emma Russell (Elisabeth Shue), the frail Oxford scientist who has unlocked the secret of the process. Back in Moscow, the thief debates whether to betray his new love or the powerful madman who is paying him millions, until he discovers that his client is concealing oil reserves that could save his freezing people. Often seen as an also-ran to the legendary James Bond, Templar, the creation of author Leslie Charteris, in fact predated the first Bond novel by decades and probably inspired Ian Fleming in his creation of the debonair agent. ~ Karl Williams, Rovi
Critic Reviews for The Saint
Audience Reviews for The Saint
Based on a character created back in 1928, this film tells the story of an expert thief and master of disguise who, in this telling, has all sorts of aliases, all of them named after Catholic saints. The Saint gets involved in all sorts of troubles when his latest caper sees him falling in love and caught up in some nutty geopolitical issues in Russia. The concept and ideas, mostly that of using saint names as aliases, are pretty damn cool. Unfortunately, the way thigns are executed here leaves a lot to be desired. I'm not quite sure what went wrong. Noyce has experience with this sort of thing, so maybe most of the blame goes to the script and the specific story. Some of it's cool, but it seems a little lifeless and dull. That said, I still found the film to be entertaining and watchable, even though it isn't really that good. It kinda comes close though. The love story is a little hokey, and some of this stuff overall is kinda silly, but it's fun, and definitely had potential to be awesome. Val Kilmer is fun to watch use all kinds of different wigs, accents, and costumes, though it amazes me how many of the characters get fooled by some of his disguises, especially since some of them are really not all that great. He does a good job though. Shue is okay, or at least servicable, though she kidna comes off as a little silly, which clashes with some of the more dramatic and seriosu thriller elements at hand. Actually, I think I just figured it out. Part of the issue here is the tone. It's uneven, and unsucessfully tries to mix levity with drama. In a lot of ways, this is like the Bond films, although some of those manage the mixing far better than others. Maybe I'm just underwhelmed by all of this because it didn't seem all that fresh and exciting. Like I said though, it did entertain me, and I was never bored. See it if you like, but don't expect it to be the real gem it should have been.
Chris Weber
Super Reviewer
½
The Saint, for me is a borderline decent action film. The ideas in the film, are good, but poorly executed, and feel kinda cheesy, yet there's something appealing the film too. The Saint for all its flaws, is a fun film to watch. The acting leaves a lot to be desired, but somehow the film is entertaining enough to be a passable action film. I agree that this film is uneven, but there are far worst films than The Saint out there. Val Kilmer give a decent performance, but one that is forgettable as well. The Saint is a cheesy action film that you have to watch when you want to be a mindless movie night where you pick something that doesn't have much plot. The Saint is a cool decent flick, but because there a lot of flaws with the film. Especially that now, watching the film today, the film looks dated all around. The film hasn't aged well. I was surprised at the names involved in this film, and considering that this film isn't good or excellent, it's just decent I was surprised to see actors like Michael Byrne in this. The Saint for all it's imperfection is entertaining, I liked it, but I wouldn't call it a good film. Like I said earlier, it's a decent flick at best. Nothing special on screen
Good cast but movie is disappointing.
Candy Rose
Super Reviewer
The Saint Quotes
There are no approved quotes yet for this movie.