Saint Jack
(1979)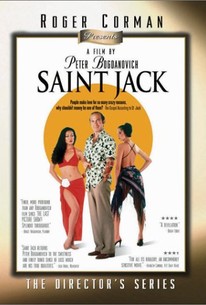 Movie Info
In the crime melodrama, Saint Jack by director Peter Bogdanovich, Ben Gazzara plays an American pimp, operating in Singapore. Seeking independence from the local mob, Gazzara is browbeaten--and sometimes just beaten--by the criminal powers-that-be. Resignedly, Gazzara goes to work for a fellow American mobster (played by director Bogdanovich, who is appropriately slimy) and ordered to photograph a crime-fighting senator (George Lazenby) in a compromising position. Gazzara finally develops a conscience, a shade too late. Filmed on location, Saint Jack was produced by the director's former mentor Roger Corman.
Critic Reviews for Saint Jack
Audience Reviews for Saint Jack
Gazarra is amazing; Muller as DP; a story about capitalism; friendships are business here, maybe real in passing; Jack stays true to himself
Adam Mahler
Super Reviewer
Saint Jack Quotes
There are no approved quotes yet for this movie.