Salaam Bombay!
(1988)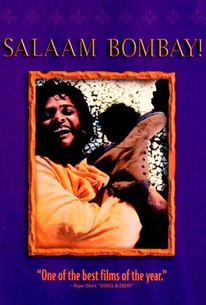 TOMATOMETER
AUDIENCE SCORE
Critic Consensus: Salaam Bombay! examines life in a part of the world many viewers have never visited -- but does so with enough compassion and grace to make them feel as if they have.
Movie Info
Joining the ranks of such previous "street children" classics as Shoeshine and Pixote is the Anglo-Indian Salaam Bombay! Shafig Syed plays Krishna, a country boy forced to grow up in the slums of New Delhi. Soon, Krishna knows no other life than hustling and stealing, and no other "neighbors" than the druggies, pimps and prostitutes who populate the teeming streets. The grimness of the subject matter is leavened at times with a steady stream of fascinating and colorful supporting characters. Salaam Bombay! was the first fictional feature from documentary filmmaker Mira Nair; though the story is scripted, the actors are genuine street people. The film won the Golden Camera and Prix de Publique awards at the Cannes Film Festival.
News & Interviews for Salaam Bombay!
Critic Reviews for Salaam Bombay!
Audience Reviews for Salaam Bombay!
½
Salaam Bombay! is the story of homeless children living in the streets of Bombay, following one little boy's story in particular. Krishna (also referred to in the movie as Chaipau) starts the film off working in the circus, where his mother has sent him to pay off a debt of 500 rupees he incurred through criminal misbehavior. When the circus leaves without him, he buys a ticket to the nearest big city, and begins to save up the money to be able to return home. But it's very hard to save money while living on the street, when your friends are junkies and thieves. Chaipau also befriends a young girl who's been sold to the local brothel, and is having difficulty adjusting to her new life in forced prostitution. Baba the pimp (he reminds me a little of Harvey Keitel's pimp from Taxi Driver), who lets his own wife turn tricks, is also a drug dealer, and is responsible for getting Chaipau's friend hooked. The movie has an air of familiarity to it, drugs, prostitution, homelessness have all been covered before (in the aforementioned Taxi Driver, for example), and the central point of view is highly reminiscent of the earlier film, 400 Blows. It also lacks the beauty of film-making that went into the latter Slumdog Millionaire (although there were a few scenes of visual and visceral cleverness). However, if one were looking to watch a film about the impoverished life on the streets of India, this would be the one to watch. It will stay with you for awhile.
Devon Bott
Super Reviewer
with slumdog millionaire perhaps set to win an academy award for best picture, it's a good time to check out mira nair's 1988 feature, salaam bombay, which makes slumdog look even more like a sugar-coated fairytale. the film used real street kids in a powerful drama about their poverty-stricken lives among drug addicts and prostitutes. like boyle's current film, it was criticized for showing a side of india some would rather not be seen. the film won many awards, drew attention to forgotten street children and raised money for a trust to help kids all over india. it may not have the feel good ending of slumdog but it's effects have been long lasting for it's subjects.
Stella Dallas
Super Reviewer
In the light of Slumdog Millionaire receiving praise, Salaam Bombay was recommended to me to compare in contrast. This is a remarkable Indian film directed by Mira Nair depicting the plight of Krishna, a ten-year-old boy. After being thrown out by his family and abandoned by new friends in a traveling circus, this resourceful youth winds up in Bombay's red-light district. Tutored by a drug addict and a prostitute, Krishna learns how to survive in the streets of the dirty and crowded city. What's different about this one, is that it doesn't romanticize the life these children live. It manages a sympathetic portrait of life among the pimps, prostitutes, drug dealers and street people of Bombay without minimizing the horrors of their existence and without being completely depressing. It manages this by keeping focus on the good impulses of the not-yet-completely-corrupted children and the way they bond and try to help one another, and by not completely closing off the possibility that they will, somehow, be able to escape. Krishna's hope is to get enough money to go home, but his compassion for his friends, his naivete, and his efforts to help others get free make that goal an elusive one. Highly recommended.
El Hombre Invisible
Super Reviewer
Salaam Bombay! Quotes
There are no approved quotes yet for this movie.