Salem's Lot
(2004)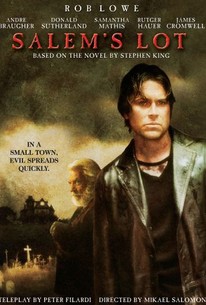 TOMATOMETER
AUDIENCE SCORE
Critic Consensus: Boasting slick visuals and exceptional performances, Salem's Lot ultimately lacks the spine-tingling scares of the original adaptation.
Movie Info
In this TV adaptation of the Stephen King novel, a journalist with traumatic memories of his haunted childhood returns to find his hometown being infiltrated by vampires. As a boy in Jerusalem's Lot, ME, Ben Mears (Rob Lowe) took a dare and broke into a local mansion called the Marsten House. There, he had the misfortune of discovering the corpses resulting from a scandalous murder/suicide. Decades later, he returns to find that a mysterious antiques dealer (Donald Sutherland) and his unseen business partner (Rutger Hauer) have moved into the Marsten House. Soon, townspeople begin disappearing and dying, only to return, floating outside the windows of their loved ones and begging to be let in. Only Ben and a few newfound allies suspect the awful truth: that something unholy has overtaken their town...something with links to the sinister mansion of Ben's nightmares. Originally broadcast June 20 and 21, 2004, on the TNT cable network, Salem's Lot was scripted by Peter Filardi, who previously penned The Craft and Flatliners. Shot on-location in Australia, this is the second television adaptation of Salem's Lot, and it follows Tobe Hooper's 1979 version. Hauer and Sutherland are old vampire buddies, having previously co-starred in the original Buffy the Vampire Slayer film.
Critic Reviews for Salem's Lot
Audience Reviews for Salem's Lot
A small town in New England is visited by slow dawning horror just as some new people move in: could there be a connection? This handles that slow burn pretty well although the ending could have used a little more pepper. The stars do enough, but Sutherland is exemplary conveying "I'm gonna get you!" menace played nonchalantly. Wish there was more of him in this.
Kevin M. Williams
Super Reviewer
I love the 1979 original it was so scary for a TV miniseries and i was only 10 when first saw it.So going into this 2004 remake or re image what ever you call it i was abit unsure about it.Well what a surprise it was excellent.The story is abit more flush out and a few more players to the mix.Rob Lowe was very good in the David soul part. Wouldn't say its as scary as the 1979 version but there is a few nice jumps along the way.Only real disappointment was that they used Rutgers hauer as the main vampire Barlow who was not really that scary as the 1979 version of Barlow. Don't be afraid of the 3 hrs. running time as it seem to pass quite quickly.
Brian De Guelle
Super Reviewer
not bad for a tv miniseries
_kelly .King
Super Reviewer
Salem's Lot Quotes
There are no approved quotes yet for this movie.