Sally of the Sawdust
(1925)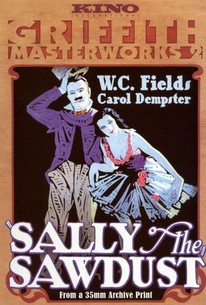 Sally of the Sawdust Photos
Movie Info
Pioneering filmmaker D.W. Griffith directed W.C. Fields in his first starring role in this silent comedy. When Mary Foster runs away from home to marry her sweetheart, a circus performer, she does so against the wishes of her socially prominent parents (Erville Alderson and Effie Shannon), who make no secret of their anger and disappointment. Mary begins travelling with her husband, and she makes friends with Prof. Eustace McGargle (W.C. Fields), a crusty but good-hearted cardsharp working with the carnival. When both Mary and her husband die, their daughter Sally is left in McGargle's care. Sally grows to adulthood (now played by Carol Dempster) and becomes a dancer with the circus; while McGargle has grown quite fond of the child, he wonders if she might not be better off with her grandparents, who can better provide for her and give her a stable home, though he's kept their identity a secret from her. While performing in the town of Green Meadows, Sally catches the eye of the wealthy and charming Payton Lennox (Alfred Lunt), but Sally must overcome the prejudices of Payton's parents, who do not consider a showgirl to be fit company for their son. However, a sympathetic local woman hires Sally to dance at an upcoming society recital -- not knowing that Sally is, in fact, her granddaughter. Sally of the Sawdust was based on a play that Fields had starred in on Broadway; he also starred in a sound remake entitled Poppy.
Critic Reviews for Sally of the Sawdust
Audience Reviews for Sally of the Sawdust
A fantastic, heartfelt, and funny dramatic film with a great cast and a somewhat simple, yet very exciting emotional story. I really liked it. It has that suspense of the audience knowing that this girl really belongs to a rich family but this guy is pretending to be her father to keep her in the circus business. You're not sure to have sympathy for him or not throughout, but the ending is very good. I recommend this movie.
Sally of the Sawdust Quotes
There are no approved quotes yet for this movie.