Salon Kitty (Edited Version)
(1976)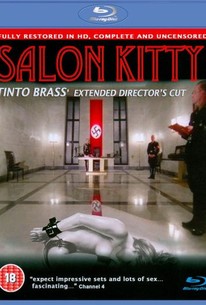 Movie Info
Tinto Brass scored his first major international success with this shocking but stylish tale of decadence in the Third Reich, inspired by a true story. Madame Kitty (Ingrid Thulin) is the proprietor of one of Berlin's most luxurious brothels, where many members of the Nazi high command are her regular customers. Kitty is approached by Helmut Wallenberg (Helmut Berger), an S.S. official who orders her to shut down her business and act as his partner as he founds a new bordello, which will exclusively cater to the elite of the Nazi Party and the German military. Unknown to Kitty, Wallenberg's brothel has been staffed entirely by women recruited by the S.S. for their loyalty to the Reich, and each room has been equipped with secret recording devices, which will allow Wallenberg and his staff to not only gather blackmail material against troublesome officers, but to discover who might be expressing disloyal thoughts about Hitler's regime when their guard is down. Margherita (Teresa Ann Savoy), a pretty young prostitute working for Kitty, is especially devoted to both her job and her country, but when she falls in love with Biondo (John Steiner), a German officer and frequent customer who has grown disillusioned with both the war and National Socialism, she discovers the true purpose of "Salon Kitty," and sets out to destroy the operation, with Kitty's help. Both a scandal and a success in Europe, Salon Kitty initially played the exploitation circuit in the United States in an edited version titled Madame Kitty, though the shorter version still earned an X rating.
Critic Reviews for Salon Kitty (Edited Version)
Audience Reviews for Salon Kitty (Edited Version)
"Put a little versa into your vice..." A perverse cabaret that's interesting because it's strange.
Randy Tippy
Super Reviewer
Hooray for the Germans trust their malevolent deeds to Third Reich whores and of their disposals.Soft-core porn nonetheless,thus...i never really overvalued it like the pure erotic movie.
Dimitris Springer
Super Reviewer
Krystle Chow
Super Reviewer
Salon Kitty (Edited Version) Quotes
There are no approved quotes yet for this movie.