The Salton Sea
(2002)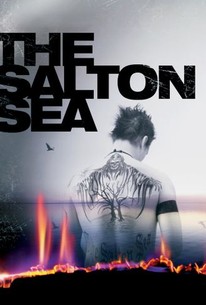 Movie Info
The feature film debut of producer and TV director D.J. Caruso, this pulpy noir mystery is a dark tale of redemption set among southern California crystal methamphetamine "tweakers." Val Kilmer stars as Danny Parker, a former trumpet player who has become a tattooed speed freak living in a cesspool of murderous dealers and hardcore addicts near the desert lake of the title. Danny's fall from grace is the result of a hidden agenda, however -- he's seeking answers about the murder of his beloved wife. He's also working undercover for a pair of brutal narcotics cops (Anthony Lapaglia and Doug Hutchison), while trying to rescue his beautiful neighbor Colette (Deborah Kara Unger) from an abusive situation and her own demons. As he and his slacker buddy Jimmy the Fin (Peter Sarsgaard) are antagonized by the sadistic, noseless dealer Pooh Bear (Vincent D'Onofrio) and his henchman, Danny draws closer to the truth about his wife's death, but the crime's solution isn't quite what he expected. Produced by Frank Darabont, The Salton Sea co-stars Adam Goldberg, Meat Loaf, Luis Guzman, and Azura Skye.
Critic Reviews for The Salton Sea
Audience Reviews for The Salton Sea
½
Fans of "Drive," take note: A small movie from 2002 that got far less attention than it deserved, "The Salton Sea," starring Val Kilmer, Vincent D'Onofrio, and Peter Sarsgaard, is a moody, gritty neo-noir worthy of comparison to "Drive." It's nowhere near as good as "Drive," but it's pretty darn good, with a haunting, brooding performance from Kilmer that will stay with you and a scary performance from D'Onofrio that reminded me of Dennis Hopper in "Blue Velvet." Like "Drive," this film has a lot of toughness and violence, but also an immense amount of heart -- and some moments of dazzling, jazzy style. Summarizing the plot runs the risk of spoiling the many surprises that the story contains. So I'll just say that the main character (Kilmer) is a loving, easy-going jazz musician who stumbles into a den of vipers and has to find the wherewithal to defend himself against their depredations. It's a rare treat to find a thriller (or any movie, really) built around a protagonist who's a musician. The weaknesses lie in the film's editing. It's just a bit too languid too often. Also, the central tragedy at the center of the plot is presented in a gauzy, sentimental way, giving this dark film an almost sugary center. This central tragedy also struck me as too much like a hackneyed plot device. It just felt a bit too conventional. But "Salton Sea" is definitely worth your time and deserves something of a cult following. I keep hearing D'Onofrio's meth-fueled pig sounds somewhere in my head. I can't make it stop. I also keep hearing the sound of the beautiful jazz trumpet that the main character plays as his home burns around him. Bravo to the whole cast and to director D.J. Caruso ("Taking Lives," "Disturbia").
William Dunmyer
Super Reviewer
Really great. The plot is really smart, just when you think you know what's going on, it flips around completely. Val Kilmer was amazing, I haven't seen him give a performance like this since his Jim Morrison. DJ Caruso is great at giving these really personal stories that, under someone else's hands, might come off as corny. He makes his films have a true sense of meaning, as well as a decent amount of fun.
Conner Rainwater
Super Reviewer
If You're Looking for a nice MOVIE you are on wrong address. This Movie is Horrible, I dont want to go in to details. The plot of messed up, the bad guys. Val Kilmer was Awful. Just Terrible Movie.
The Salton Sea Quotes
| | |
| --- | --- |
| Danny Parker: | For the people who don't do drugs, or just do them occasionally, it's something that becomes your life, and you belong. You finally hit bottom and you know who you are, because you can't go any lower. When you find... a friendship that you wouldn't have found anywhere else. Still and all, there's a kind of intimacy with those that can go the distance. Sometimes you see the world so clearly... and you know just what to do, and just when to do it. Just what you should've done, and when you should've done it. |