Salvador
(1986)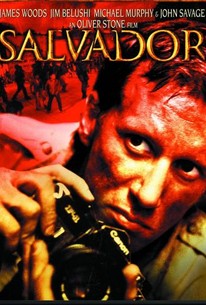 TOMATOMETER
AUDIENCE SCORE
Critic Consensus: Despite its somewhat disjointed narrative, Oliver Stone's Salvador is a vivid and powerful political drama that sets an early tone for the director's similarly provocative future projects.
Movie Info
While Salvador wasn't Oliver Stone's first film (a pair of offbeat horror stories preceded it), it defined his style of fiercely dramatic, politically oriented filmmaking, staked out his territory as one of the major directors of the 1980s and 1990s, and remains one of his strongest works to date. Veteran photojournalist Richard Boyle (James Woods) has been taking his camera to the world's trouble spots for over 20 years; while he does good work, Boyle's fondness for booze and drugs, and his colossal arrogance, have given him a reputation that's left him practically unemployable. Broke and with no immediate prospects, Boyle and his buddy Doctor Rock (Jim Belushi), an out-of-work disc jockey, head to El Salvador, where Boyle is convinced that he can scare up some lucrative freelance work amidst the nation's political turmoil. However, when Boyle and Rock witness the execution of a student by government troops just as they enter the country, it becomes clear that this war is more serious than they were expecting. Increasingly convinced that El Salvador is a disaster starting to happen, Boyle eventually decides that it's time to get out; but he has fallen in love with a woman named Maria (Elpidia Carrillo), and he doesn't want to leave her behind. James Woods gives one of his best performances as Boyle; and the passion of Stone's message, aided by the power of its truth (the film is based on actual events), propels the film forward. ~ Mark Deming, Rovi
Critic Reviews for Salvador
Audience Reviews for Salvador
"..... remains one of his strongest works to date." Maybe so, but I found it quite dated.
familiar stranger
Super Reviewer
Not Oliver Stone's first film, but definitely the first to really show the direction his career would be taking (politically charged, hauntingly dramatic, very strong sense of vision and message). And, this was released the same year as his landmark Platoon, so 1986 was one great year for him. Another thing about this movie that would become a Stone trademark is that it's based on actual events, with the script co-written by Stone and the subject of the film, in this case journalist Richard Boyle and his exploits in civil war torn El Salvador in the 1980s. Boyle was basically a washed up sleazy gonzo journalist who, ever the opportunist, decided to go to El Salvador (well, return as it were) to make a quick buck getting photos of the tumultuous uprising going on. Along for the ride is his friend the American DJ Dr. Rock, who, like many from the U.S. was initially ignorant of what was going on. As the things they see and experience get more harrowing and brutal though, Boyle becomes enlightened and rather than just be there to cash in on thigns, becomes a crusader who regains his lost soul and humanity. The film is really gritty and sometimes ugly, but it fits the subject matter perfectly. There's some great cinematography here, and the location shooting really helps, too. The great about this film is that Boyle is not really all that likeable of a guy. He's sleazy, opportunistic, and hedonistic, but he's still a fascinating guy, so that's what makes the film watchable. Plus, he does grow and change and earn the audience's care. James Woods really shines here as Boyle, and his Oscar nomination was much deserved. This is the second film I've watched recently with James Belushi in a dramatic role, and this one really cements my belief that he's a talent that has unfortunately fallen by the wayside. He's great as Dr. Rock, and seeing him and Woods together is quite reminiscent of a less zonkeed out Hunter S. Thompson sort of tale. I'll admit that I really wasn't too familair with Boyle, or the situation in El Salvador. Sure, I've heard of it, but prior ot seeing this I couldn't really tell you anything about it. Basically the U.S. supplied military aid to the country to help root out the spread of communism, but the tactics used by the anti-communists were so brutal and vile that they pretty much reflected the actions of those they were trying to defeat. It's bitterly ironic, and some very compelling material, especially when you have these two down and out gringos swept up in the middle of things. Stone can be a very challenging filmmaker with some tough films. This is one of those, but it also is rather accessbile. It does help to have a strong stomach though, and to be able to handle a lead that isn't usually all that likeable. If you can do that, then this will be a good film to give a watch.
Chris Weber
Super Reviewer
Off-beat actor meets eccentric director meets gritty material.
Randy Tippy
Super Reviewer
Salvador Quotes
There are no approved quotes yet for this movie.