Same Old Song
(1999)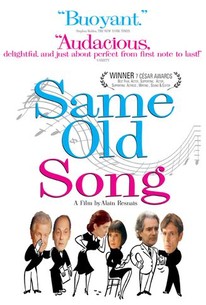 Movie Info
In this homage to acclaimed TV scripter Dennis Potter (1935-1994), famed 75-year-old French director Alain Resnais (Hiroshima, Mon Amour, Last Year at Marienbad) has actors lip-synch in a manner instantly recalling Potter's Pennies from Heaven (1978 TV serial, 1981 movie) and The Singing Detective (1986), regarded by some as the best original work ever created for television. Completing her history dissertation, Camille (Agnes Jaoui) is a Paris tour guide, and Simon (Andre Dussolier) is a regular on her tours because he's attracted to Camille -- although he claims to be researching his historical radio dramas. Camille's sister, business-executive Odile (Sabine Azema), is married to weak, furtive Claude (Pierre Arditi). In the past Odile was close to successful businessman Nicolas (Jean-Pierre Bacri), now married with kids and returning to Paris after an eight-year absence. Odile seeks an apartment from real estate agent Marc (Lambert Wilson). Camille and Marc begin an affair. Nicolas is also looking for an apartment, since he hopes to eventually have his family join him in Paris. These characters make easy transitions back and forth from the dialogue to 36 song fragments. The film's debt to Dennis Potter is acknowledged with a dedication in the opening credits.
Critic Reviews for Same Old Song
Audience Reviews
There are no featured reviews for Same Old Song at this time.
Same Old Song Quotes
There are no approved quotes yet for this movie.