Same Time, Next Year
(1978)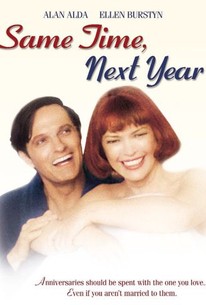 Same Time, Next Year Photos
Movie Info
Based on Bernard Slade's Broadway play of the same name, this film is about George, a married New Jersey accountant (Alan Alda), and Doris, a housewife (Ellen Burstyn). The two accidentally meet in a Californian country inn in 1951. They have an affair, which they continue for the next 25 years, meeting only once a year for a weekend getaway at the same hotel. Through their long-running love affair, the audience witnesses the changes within America and its lifestyles over the course of a quarter of a century.
Critic Reviews for Same Time, Next Year
Audience Reviews for Same Time, Next Year
½
Likely something that your mom would like. two married people go through life having an affair once a year at the same hotel. They talk about their lives and how they have changed but they still have each other. Slightly barfy.
John Ballantine
Super Reviewer
A man and a woman meet every year to carry on a multi-decade affair. Two-handers, plays or films with only two characters, require two excellent actors who can carry the film. Alan Alda and Ellen Burstyn are two such actors, but this film needs more than their strong work. What makes the film ultimately fail is the inconsistency of the characters. Even though Alda does well in this scene, it's difficult to imagine the man we've been getting to know for the last hour turning into a callous conservative prick. The same is true for the scene in which Doris comes in decked in full hippie gear. Also, George's neuroticism occasionally gets annoying, a fault of the script giving him ridiculous lines that -- once again -- aren't consistent with the rest of the character. Overall, Burstyn and Alda do their best, but crazy glue couldn't hold this film together.
Jim Hunter
Super Reviewer
I saw 20 minutes from the middle of this on TV probably five years ago and thought "looks pretty good." I think they were the best 20 minutes of the movie. Overall, this one comes off like your average community theatre play, and it appears to have a lot of lines that would have worked better on stage. The problem (well, a problem, there are a quite a few) is that this was shot as though it were on stage, in a lot of long shots in front of cheap scenery. The acting is so-so, but the dialogue is brutal - fast-forward the first 15 minutes or more, you won't miss anything - and the plot clunks along. And yet, strangely, the story does gets its hooks in you. You can't stop watching. You need to know how it ends. Unfortunately, this is just mediocre or worse on so many levels that the interesting premise can't save it.
Daniel Perry
Super Reviewer
Same Time, Next Year Quotes
There are no approved quotes yet for this movie.