Samurai Cop
(1989)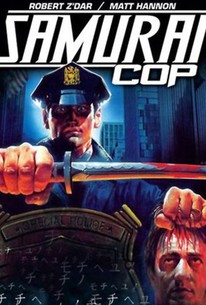 AUDIENCE SCORE
Critic Consensus: No consensus yet.
Movie Info
When Japanese organized crime imbeds itself within LA, the police turn to one man to take down the deadly Yakuza -- Maniac Cop himself, Robert Z'Dar as Japanese authority and martial artist Joe Marshall, aka "The Samurai." With his fearless swagger and rock hard jaw, The Samurai tears a two-fisted hole through the mob and doesn't stop until the job is done. The director Amir Shervan preceded Samurai Cop by the cheap video classic Hollywood Cop in 1988.
Critic Reviews for Samurai Cop
All Critics (3) | Fresh (0) | Rotten (3)
Confronts us with one of the most jaw-droppingly unsympathetic protagonists imaginable.
A movie full of incompetent shots, stiff acting, ridiculous action sequences, and second-rate special effects. [Full review in Spanish]
Audience Reviews for Samurai Cop
Complete disbelief, you have to go see it!
½
It doesn't live up to the standards set by other so-bad-it's-good movies like Troll 2 and The Room, but Samurai Cop is still a hilarious blunder of an action movie that delivers on every B-movie front in terms of over-the-top violence and gratuitous (and I mean REALLY gratuitous) sex and nudity. Matt Hannon stars as the cop in question, rocking a long, flowing mullet and an uncomfortable amount of chest hair. Joe "Samurai Cop" Marshall is a police officer who was "trained by the masters in Japan" (your guess is as good as mine) and can now wield a katana with deadly precision and awkward poses. In case you were wondering, Samurai Cop explains that 'katana' is a noun that means "Japanese sword." Samurai Cop, along with another police officer who makes the best facial expressions ever, is assigned to hunt down the Katana Gang, a gang led by a Japanese businessman whose name Matt Hannon clearly struggles with pronouncing. The acting is terrible across the board, and the only thing worse than the acting is the script. It's written and directed by, you guessed it, a foreign director whose only knowledge of America comes from bad movies. Iranian director Amir Shervan was clearly under the impression that Americans are long-haired sex addicts who spend their free time driving fast cars and running along beaches in speedos. Although not all of the movie is comedy gold, there are many scenes that absolute perfection, namely one involving a sex-obsessed nurse who goes from treating a burn victim to asking Samurai Cop if he was circumcised, without very much small talk in between. There are also about four sex scenes, all of which drag on for seemingly endless amounts of time, which is pretty funny in its own right. They serve no purpose in the movie at all, and altogether they probably take up 15 to 20 minutes of the movies 96 minute running time. The incompetence of everyone involved with the movie is baffling at times, but it makes for a pretty funny if at times inconsistent bad movie that lives up to its ridiculous plot and title.
Joey Shapiro
Super Reviewer
Samurai Cop Quotes
There are no approved quotes yet for this movie.