San Francisco
(1936)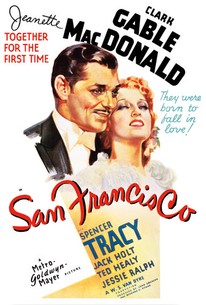 Movie Info
The MGM historical "spectacular" San Francisco was allegedly based on a three-sentence synopsis, submitted verbally to producer B.F. Zeidman by studio troubleshooter Bob Hopkins. The story begins on the Barbary Coast on New Year's Eve, 1906, as rakish but likeable political boss Blackie Norton (Clark Gable) hires demure young singer Mary Blake (Jeanette MacDonald) to perform at his rowdy Paradise gambling house. Local priest Father Mullin (Spencer Tracy), Blackie's best friend, disapproves of the exploitation of the lovely Mary, feeling that she's suited for classier surroundings. Jack Hurley (Jack Holt), Nob Hill socialite and Blackie's political rival, agrees with Father Mullin and offers the girl the opportunity to sing with the San Francisco Opera. Blackie, who's fallen in love with Mary but won't admit it to himself, jealously holds on to her contract, forcing Mary to walk out on him. For the rest of the film, Mary is torn between the "respectable" lifestyle offered her by Hurley and the baser creature comforts provided by Blackie. It looks for a while that Hurley has won out, but fate takes a hand in the form of the devastating San Francisco Earthquake of April 18, 1906 (a special effects tour de force for art directors Arnold Gillespie and his uncredited associate James Basevi). Hurley is killed in the holocaust, while Blackie, desperately searching for Mary in the rubble, at long last finds religion and prays to God for his sweetheart's salvation. At the end, an unidentified bit player shouts defiantly "We'll build a new San Francisco!" -- and by golly, they do! The Hollywood censors were not so much bothered by the sexual subtext of San Francisco or its harrowing earthquake finale as they were by a scene in which Father Mullin is knocked down by an unrepentant Blackie. To "purify" this potentially blasphemous sequence, screenwriter Anita Loos quickly added an earlier scene in which Mullin and Blackie, both dressed in turtleneck sweaters, genially duke it out at an exercise gym, whereupon the priest cold-cocks Blackie with the greatest of ease. By establishing that Mullin could have punched out Blackie, but chooses not to in the controversial later scene, not only allows that scene to pass, but also strengthened the priest's character. San Francisco proved to be one of MGM's biggest hits, remaining in almost constant reissue for the next three decades.
Critic Reviews for San Francisco
Audience Reviews for San Francisco
San Francisco has the firepower (or should that be the earthquake power) of a very strong lineup. It was the 30s version of the blockbuster and similar to modern blockbusters, the script is a little thin and sensationalist.
John Ballantine
Super Reviewer
This is a pretty remarkable achievement as far as disaster films are concerned. It actually has an engaging story that doesn't necessarily revolve around the Great Quake of 1906, yet it feels urgent and ominous as the events that you watch all lead up to that inevitable climax. Also, the special effects are pretty amazing considering that this film was made a mere 30 years after the real-life events it's depicting. Definitely worth a watch!
Rico Zamora
Super Reviewer
½
Classic MGM spectacle is highlighted by remarkable re-enactment of the 1906 San Francisco earthquake. What's more, this romantic drama includes an engaging story as well. Young, classically-trained singer is plucked from obscurity and becomes a success. Complications arise when she is also offered a chance to sing with the Opera, in decidedly classier surroundings. Grand, but dated period film was a huge blockbuster in its day and it's easy to see why. Nominated for six Academy Awards including Best Picture.
Mark Hobin
Super Reviewer
San Francisco Quotes
There are no approved quotes yet for this movie.