Sanctimony
(2001)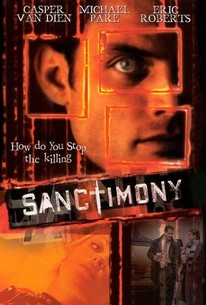 AUDIENCE SCORE
Critic Consensus: No consensus yet.
Movie Info
Eric Roberts is at it again in this serial killer thriller from Uwe Boll, a director best known for his 1991 film German Fried Movie. In an anonymous American town (actually Vancouver) a serial nutcase is taking the proverb "See no evil, hear no evil, speak no evil," a little too seriously, robbing victims of their eyes, ears, and tongues. Detectives Jim Renart (Michael Pare) and Dorothy Smith (Jennifer Rubin) are under pressure from their superior (Roberts) to capture the killer, and they finally get a break when alpha-yuppie stockbroker Tom Gerrick (Casper Van Dien) offers himself for questioning. However, actually nailing Gerrick proves to be a difficult matter, especially with the feds set to take over the case in mere hours, and Gerrick's impending appearance on a TV talkshow.
Critic Reviews for Sanctimony
Audience Reviews for Sanctimony
½
It's universally accepted that Uwe Boll just cannot direct a decent film, but that doesn't mean they fail to entertain, this one was just dysmal though. A serial-killer movie with little killing, no suspense and a miscast villain. Boring and uninteresting.
[font=Arial][color=darkred]You don't have to be a gun aficionado to get cozy in The Shooting Gallery. This is a brand new column devoted to analyzing an artist's repertoire. By the end of the column judgment will be passed, sentences will be given, and potential book deals will be brokered for all jury members. But before we skedaddle into the back room and set our sights on our first defendant, let's hear a quick story.[/color][/font] [font=Arial][color=darkred]My first column dealt with a retrospective on the year in film. I threw a title together rather quickly: "2004 In Review, Under Wraps, and Tied to a Chair." I always had an inkling to change the title but I never got around to it. I just didn't think it was witty. Apparently, my laziness has been a godsend (someone tell my parents), because since going online January 18, 2005, the column has been a stable hit-machine. Is America falling in love with me? Will it ask me out on a second date? As a chaste, moral young man, do I give it up if America says it'll respect me in the morning? So many questions, but I think I have a handle on answering the biggest one: why do people, month after month, still want to read a column about 2004's cinematic highs and lows? Anyone checked Google lately? Go ahead, type in "tied to a chair" in the space and hit enter. Seriously, I'll just make a sandwich and wait. You back? Good. By the way, that sandwich was awesome, if you cared to know. It seems my dear little column about movies is now the second item listed by Google if you enter "tied to a chair" (I do know it used to be number one). It appears that any frisky and potentially curious person looking for some S&M thrills is instead being directed to my column. I cannot account for how many bondage inclined movie fans I've brought over, but I'm sure it's got to be in the hundreds. And surely people who like to get freaky have opinions on movies too, though for them a midnight movie likely has an altogether different meaning.[/color][/font] [font=Arial][color=darkred]With all this in mind, my first thought was to do the same thing when it came time to name column number two; give it a name that'll really draw hits from search engines. So before getting nixed by the editors, this column was going to be called, "UNDERAGE WET PARIS HILTON HARD T&TS COC% BRITNEY SPEARS BALLS HIDDEN CAMERA SLEEPOVER LESBIAN BL#WJ#B SHAVED ANAL DWARF TEENS PAM ANDERSON HUGE A$$ DOUBLE F!STING GOAT AMATUER NUDIST VOYUER MILF BOOBS NIPPLE TAINT ASIAN PUBIC UPSKIRT GOLDEN SHOWER SIXTY-NINE ORGY LUCILE BALL THREESOME SUMMER CAMP CHEERLEADERS GAY JUGGS REDHEAD S&M DOMINATRIX BORDELLO MASSAGE PARLOR TWINS." Oh yeah, and add "tied to a chair" at the end of that, you know, for posterity. I don't want to lose anyone still looking for well-written film articles and those interested in being bound to furniture.[/color][/font] [font=Arial][color=darkred]Now that story time's over it's time to settle on The Shooting Gallery's first target. Some people call him the biggest hack in Hollywood. Other people call him a modern day Ed Wood. His mother calls him Uwe Boll. He's the German-born director most widely known for the video game treatments, 2003's [i]House of the Dead[/i] and 2005's [i]Alone in the Dark[/i]. Little is known about Uwe (I've read pronounced [i]Oooo[/i]-va or [i]Ewww[/i]-ee, and I am not kidding) outside of his video game feature films, which includes [i]Bloodrayne [/i]later this year and no less than four video game based movies in 2006. Just a mere mention of his name will cause many movie fans (and several video game fans) to froth at the mouth and grow incensed. Boll is so reviled that there's actually separate websites called uwebollsucks.com and the more alarmist uwebollisantichrist.com ("We believe that the purpose of your life is to inflict as much suffering and grief as possible in the heart of humans everywhere."). So for the sake of fairness, I am throwing out all my preconceived notions about Uwe Boll and taking a cold, hard look at his film library that will be so thorough it'll put proctologists to shame. You know, in case I decide to type something anus-related into the title and snare them from Google.[/color][/font] [font=Arial][color=#8b0000][/color][/font] [font=Arial][color=#8b0000][/color][/font] [center][center][font=Arial][color=darkred][b]UWE: THE MAN, THE MYTH[/b][/color][/font][/center][/center] [center][center] [/center][/center] [center][center][img]http://img367.imageshack.us/img367/4139/uweboll2so.jpg[/img][/center][/center] [center][center] [/center][/center] [font=Arial][color=darkred]Boll (born on June 22, 1965 in Wermelskirchen, Germany) earned a Master's in Literature at The University of Cologne in 1995. Boll wrote, directed, and self-financed a low budget comedy called[i] The German Fried Movie[/i]. To everyone's great surprise, the film became the number four top grossing movie in Germany that year. A star was born. Boll directed and produced movies in his native land for the next several years, before making the leap to English-speaking feature films in 2000.[/color][/font] [font=Arial][color=darkred]I looked all over but could not find any of Boll's German films available for sale. I did find a review for 1997's[i] The First Semester [/i]([i]Das Erste Semester[/i]) on a German website, which naturally was in German. Since I don't exactly sprechin sie Deutch (I barely passed a year of Spanish in college), I went over the Altavista's Babelfish website and cut and pasted myself a translation. The following is what I got from the German-to-English translation:[/color][/font] [color=darkred][i][color=black][font=Arial]"Which zumutet Dr. Uwe Boll with "the first term" the spectator, each description scoffs. To get duemmliche history acts of Andreas's glow (Christian Kahrmann), which after its first term two lights and a firm friend show must, in order from its grandfather 150,000 DM. His stepfather Rolf (Willi Thomcyk) tries, this by Dietmar (Alexander Schottky), a fellow student, to prevent and the Campusschlampe Lea (wheel east Bokel). "the first term" fails not only because of the bad schauspielerischen achievement of all leading actors, but also to the plates and at no time funny history. One feels reminded of the innumerable Paukerfilme with Heintje, which developed in the 60's; but even those were more unterhaltsamer partial. [/font][/color][color=black][font=Arial]If Dr.[/font][/color][color=black][font=Arial] Uwe Bolls universitaere career should have run in such a way or similarly, with this film nothing at all more surprises one."[/font][/color][/i][/color] [color=darkred][i][color=black][font=Arial][/font][/color][/i][/color] [color=darkred][i][color=black][font=Arial][/font][/color][/i][/color][color=darkred][font=Arial][color=darkred][color=black][color=darkred]Uh[/color][color=darkred]hhhh, yeah. I have very little idea what this movie is about, but it's good to know that even a German audience can tell a bad schauspielerischen when it sees it. So how does Boll manage to get his movies made if they're reportedly so terrible? That seems to be the rub: Boll gets his movies made [i]because[/i] they're reportedly so terrible. The majority of Boll's financing comes from German investors overseas. There's a loophole in [/color][/color][/color][color=black][color=darkred]Germany[/color][/color][color=black][color=darkred]'s tax code that allows movies that have performed badly to be written off. It makes sense to fund movies that will knowingly be terrible, garner low initial grosses, because the German investors can write their investment off and then enjoy the eventual money that will trickle in for years with video rights and sales. This could quite possibly be the most diabolical plot ever. [i]Ever[/i]. Imagine what horrors would be reaped if Joel Schumacher got wind of this. It's scenarios like these that help fuel Boll's production company and insure that his director's chair won't be disappearing any time soon. Boll says in his own words, "I worked myself in the film industry, made movies like GERMAN FRIED MOVIE or RUN AMOK with NO MONEY and released the movies on my own, traveled to the theatres, talking to the exhibits and to the audience. That I make movies is not a result of VITAMIN B is is the result of my work and my discipline and my talent."[/color][/color][/font][/color] [color=darkred][font=Arial][color=black][/color][/font][/color] [color=darkred][font=Arial][color=black][/color][/font][/color][font=Arial][color=darkred]Modern day Ed Wood or figure worthy to be likened to the Antichrist? It's time to decide, and the only way to do so is to go back to where Uwe Boll first lured American audiences, with 2000's [i]Sanctimony[/i].[/color][/font] [font=Arial][color=#8b0000][/color][/font] [font=Arial][color=#8b0000][/color][/font] [center][font=Arial][color=#8b0000][/color][/font] [img]http://img261.imageshack.us/img261/6417/b00005ic0f01sclzzzzzzz3ze.jpg[/img][/center] [center] [/center] [font='Courier New'][font=Arial][color=darkred][/color][/font][/font] [center][color=darkred][font=Arial Narrow][size=3][b]Sanctimony (2000)[/b]: Internet Movie Database rating: 3.5; 2/5 positive at Rotten Tomatoes[/size][/font][/color][/center] [color=darkred][font=Arial][size=2][/size][/font][/color] [font=Arial][color=darkred]Sanctimony is the English-language introduction to the filmography of Dr. Uwe Boll and the very last movie I had yet to see for my expansive column. Boll wrote and directed the movie about a clever serial killer that's baffled law enforcement. It's interesting coming into Sanctimony with all the Uwe Boll homework in the back of my head. I know what flaws I'm looking for, I pay attention to the retched line delivery from the actors, and I genuinely know what I'm getting into. It's seems that Boll works somewhat in a bubble; almost all of his technical crew is the same from film to film, and Michael Paré, Jurgen Prochnow, Clint Howard, and Patrick Muldoon seem to be the stable Uwe Boll Players. Sanctimony is where it all began and where everything went so horribly awry for movie going audiences.[/color][/font] [font=Arial][color=darkred]A killer is loose and terrorizing Seattle, cutting out the eyes, ears, and tongues of his victims. The media has dubbed him the "Monkey Maker killer" (think "speak no evil, hear no evil, etc."). Detective Renart (Paré) and his partner Dorothy Smith (Jennifer Rubin) are assigned the case. After some investigation of a stabbed homeless girl, their initial suspect seems to be Tom (Casper Van Dien), a wealthy and cynical stockbroker. His lawyer balks at any charges and Tom goes free. Coincidentally, more bodies start piling up haphazardly. As Renart puts more pressure on Tom, he starts targeting those close to him, like his pregnant wife (Catherine Oxenberg, who seduced Van Dien in 1999's The Omega Code). Tom has some master plan ready to shock the world, and only the dogged persistence of Renart can stop his wicked ways.[/color][/font] [font=Arial][color=darkred]Sanctimony is really a crossbreeding of what Boll liked best about Seven and American Psycho. Like David Fincher's masterpiece, Boll really wants his serial killer to be slicing and dicing with a message; this killer gets his kicks from cutting out different body parts. Tom eventually goes after his pursuer's pregnant wife, just like Seven, and clumsily aims for some kind of myopic preaching. Tom sure does like to spit out a diatribe about the plague of humanity, even after he's just dismembered a call girl. Boll seems very intent on crafting Tom into a Patrick Bateman-esque character, one whose soul has been lost to the bottom line of the business world (how many hotshot stockbrokers are based in Seattle?). But while American Psycho was complex, satirical and deeply metaphorical, Sanctimony is stupid. Boll wants Tom's speeches to have terrifying power to them, but instead they come across as theatrical and lifeless. Tom says, "Raping and pillaging have been the official government policy of any government that's ever thrived." If you're impressed by this assertion, Sanctimony might just be the movie for you. If you yawn at this sub-standard Political Science 101 ejaculation, then you're likely beyond the film's short-armed reach. Boll's writing has a vague inauthentic feel, like he learned everything about crime procedural from TV. In the year 2000, a character actually summarizes America with the words, "apple pie and baseball." By now I think the only people that characterize America that way are conservative politicians and out-of-touch, disdainful foreigners.[/color][/font] [font=Arial][color=darkred]Boll's serial killer thriller plays all the genre clichés. First, naturally, there's the clever serial killer who must torment his persecutors as a game. Then there's the umpteenth example of a cop haunted by the lives he can't save and his stalwart dedication to the case straining his marriage. When will these wives ever understand? Renart and Dorothy naturally get thrown off their case, thus finally allowing them to solve it as in every cops-and-robbers movie. Maybe movies should just begin with the cop thrown off their case; it would save everyone a hell of a lot of time as far as casework. [/color][/font][url="javascript:void(0)"][font=Arial][color=darkred]Partners must always die to spurn our hero into action, though I'd have to assume Dorothy's too young to be days away from a blissful retirement. Killing her seems ill advised too, especially since her last known whereabouts would be a dinner date with Tom.[/color][/font][/url][font=Arial][color=darkred] Way to be the number one suspect and give yourself borrowed time, dude.[/color][/font] [font=Arial][color=darkred]I hate to admit it, but despite all its glaring simplicity and predictable bumps in the road, Sanctimony is passably entertaining, that is, until the ridiculous ending draws near. As with most serial killer films, the killer is practically a super being with an agenda. Except, in Sanctimony, Boll doesn't even give his vengeful hand of God an agenda but just an inescapable rage. [/color][/font][url="javascript:void(0)"][font=Arial][color=darkred]The film climaxes with Tom going on a shooting spree at his wedding party and then being gunned down by Renart.[/color][/font][/url][font=Arial][color=darkred] Boll uses lots of slow-mo and swelling dramatic music, but the scene had no set-up from earlier and makes little to no sense. What was his master plan? Was Tom trying to outlive his looming terminal illness and create a name that will long live on, likened to the horror he has wrought? He said he couldn't stand the curse of people, so was his plan to just take out as many people as possible? If so, surely leaving the cops obvious tell-tale signs was not helpful, especially if he was just going to out himself on live TV as a murderer anyway. Sanctimony ends with far too many loose ends and unexplained motives that, in hindsight, seem to suggest Boll's clever serial killer wasn't so clever after all.[/color][/font] [font=Arial][color=darkred]Since the heroes of [i]Sanctimony[/i] are so rote and familiar, the only place for Boll to make artistic strides is in his depiction of his killer, Tom. This is where Sanctimony and Boll really drop the ball. Before we know anything about him, Boll has already introduced us to Tom's office, which should more accurately be described as a lair. It's gigantic, poorly lit, and surrounded by ominous rock faces. He even has an array of monitors at his super desk of villainy. The only thing missing is a desk full of files labeled, "Plan, Evil." We never really understand what Tom's motivations are, though Boll thinks he's helping by lining up speeches about Tom's views on people (hint: it's not optimistic). Even his choices of murder have no lasting message; Tom just kills whoever's weak and available. If he's an ordinary killer then what's the point of even basing a flick around him?[/color][/font] [color=darkred][font=Arial][i]Sanctimony[/i] presents a lot of Tom's ire but never digs any deeper. He attends a laughable S&M club where they make snuff films in the back for your viewing pleasure. The leader of this demented boys club wants to harness male fury as motivation, for what I don't know. So what does Tom do next? He goes home and chokes and rapes his fiancé, clearly indicating that this unique support group is not working. She rejects his rough play, so Tom walks the empty Seattle streets (!) with his knife openly drawn and stabs a homeless girl. Was he frustrated over his failed rape? Is he reacting against a woman asserting power over him, denying him an outlet of pleasure? We'll never know, because Sanctimony is only interested in skirting the waters of characterization. In Boll's movie, people fall into types and aren't given anything else to work with. Tom is the killer. He kills. That's all you're going to get. Even though the movie is only 87 minutes long, Boll is disinterested in spending time with his characters. He's rather just draw up a sketch from someone else's work and move along.[/font][/color] [font=Arial][color=darkred]The acting is somewhat better than most Boll movies, and yet still a degree below typical straight-to-video blandness. Van Dein ([i]Starship Troopers[/i]) is amusingly believable as a stone-faced serial killer. His limited acting range actually strengthens the character's sense of frustration. He's got a menacing stare to boot. Paré ([i]Hope Floats[/i]) phones in his performance but gets some points for being in the film's most weirdly awkward moment, when Renart has to step in as nude model for his wife and her giggly photographer peers. Bizarre doesn't go far enough in describing the scene. Rubin ([i]Little Witches[/i], [i]Amazons and Gladiators[/i]) is the hard-nosed female cop trying to make it in a man's world, and gives a decent if unmemorable performance. I was more intrigued by her ever-present striped scarf, which seems to follow her everywhere from the shooting range to inside her home. Roberts has very little screen time and is still third billed. Are we at an age where Eric Roberts is a marketing tool? I'd like to think not.[/color][/font] [color=darkred][font=Arial][i]Sanctimony[/i] is Uwe Boll's stab at the serial killer genre, so it shouldn't be surprising that it's formulaic and bereft of suspense and imagination. This is a generic rip-off of far better serial killer flicks. The characters are all brief sketches and genre clichés, and Boll can't even come up with a compelling agenda for his killer. I kept waiting for [i]Sanctimony[/i] to fully explain itself, but once the wedding shoot-out is complete the film leaves you addled and perturbed. Boll has castrated his drama, rendering it unimportant, lazy, and sloppy. Boll may have several ideas floating around his head but he never brings them in for a clarification. Whatever intellectual goals he may have intended for [i]Sanctimony[/i] will be lost on an audience grasping for meaning and entertainment. How dumb is this movie? Well, it defines what "sanctimony" means in the opening credits via dictionary. It should be very ominous when a movie is forced to define its own title. Ominous, indeed.[/font][/color] [font='Times New Roman'][font=Arial][size=2][color=darkred][b]Nate's Grade: C-[/b][/color][/size][/font][/font]
Nate Zoebl
Super Reviewer
Sanctimony Quotes
There are no approved quotes yet for this movie.