Sanctum
(2011)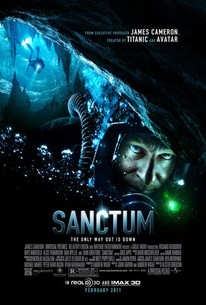 TOMATOMETER
AUDIENCE SCORE
Critic Consensus: Sanctum is beautifully photographed, and it makes better use of 3-D technology than most, but that doesn't make up for its ham-handed script and lifeless cast.
Movie Info
The 3-D action-thriller Sanctum, from executive producer James Cameron, follows a team of underwater cave divers on a treacherous expedition to the largest, most beautiful and least accessible cave system on Earth. When a tropical storm forces them deep into the caverns, they must fight raging water, deadly terrain and creeping panic as they search for an unknown escape route to the sea. Master diver Frank McGuire (Richard Roxburgh) has explored the South Pacific's Esa-ala Caves for months. But when his exit is cut off in a flash flood, Frank's team--including 17-year-old son Josh (Rhys Wakefield) and financier Carl Hurley (Ioan Gruffudd)--are forced to radically alter plans. With dwindling supplies, the crew must navigate an underwater labyrinth to make it out. Soon, they are confronted with the unavoidable question: Can they survive, or will they be trapped forever? Shot on location off the Gold Coast in Queensland, Australia, Sanctum employs 3-D photography techniques Cameron developed to lens Avatar. Designed to operate in extreme environments, the technology used to shoot the action-thriller will bring audiences on a breathless journey across plunging cliffs and into the furthest reaches of our subterranean world. -- (C) Universal
News & Interviews for Sanctum
Critic Reviews for Sanctum
Audience Reviews for Sanctum
Mediocre action film, Sanctum is a film that had potential of being a great film; unfortunately it falls flat, and relies more on clichés than anything. The film is a well made, and there some exciting bits here and there, unfortunately, the material presented here is something we've seen many times before. Sanctum is the perfect example of a film that's style over substance, it looks great, but the plot is paper thin, and relies on recycled ideas from previous films in order to create an engaging film. Unfortunately the results here lack, and despite a few good moments, it doesn't do anything to really grab your attention. The end result leaves you wanting more, and considering it was produced by James Cameron, you'd expect a great film viewing experience. Unfortunately, the ideas here are overdone, and not that interesting. The high point of the film however, is that the film looks great, and it's well shot, but overall it's an empty vessel, a film that lacks effective execution to make a truly exciting thrill ride from start to finish. Sanctum is just a collection of clichés, and underwhelming performances. If you're going into this one expecting a great movie, you'll sadly be disappointed. Sanctum had potential, but the filmmakers squander that to rethread old formulaic ideas that just are not interesting. Overall, I was let down by the film, and I can't recommend it because it's just a pointless effort that lacks anything that will truly grab your attention. Watch something else, Sanctum just doesn't deliver and it is a film that should have used plenty of script rewrites before getting the go ahead. In terms of action, adventure films, this one is forgettable, and there are better ones out there.
A decent survival thriller. Watched it on DVD so don't know how good it is in 3D. The cave looks amazing and steals the show really, otherwise it ends up follow a already well trodden path for this type of film and others little new. I have to say as well why oh why make the English actor do an awful American accent, why not make his character English and save embarrassment!
½
Not a bad movie, but not great either. I bet it must have been pretty cool in 3D with all the suspended in water dive scenes. Without the 3D aspect, just another cave dive movie with a high body count.
Cynthia S.
Super Reviewer
Sanctum Quotes
| | |
| --- | --- |
| Josh McGuire: | Assumption is the mother of all fuck-ups. |
| | |
| --- | --- |
| Frank McGuire: | There's no god down here. This place doesn't give a rat's ass about you or me or any of us. We're bits of dust passing through. |
| | |
| --- | --- |
| Victoria: | "Hot bath and a brandy an I'll be fine" |
| Victoria: | Hot bath and a brandy and I'll be fine. |
| | |
| --- | --- |
| Victoria: | [rejecting ill-fitting diving suit] I'd rather be cold and alive than warm and dead. |