The Sand Pebbles
(1966)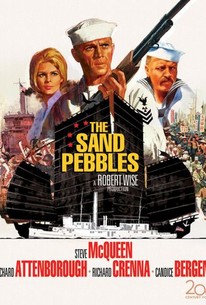 Movie Info
Steve McQueen received his only Academy Award nomination for his performance in this epic-scale war drama, based on the novel by Richard McKenna. In 1926, as China teeters on the edge of political revolution in the midst of a civil war, the USS San Pablo, is ordered to patrol the Yangtze River to represent and protect American interests. While the San Pablo may be an American ship, much of the labor is actually performed by Chinese locals willing to work for American money, while stern but inexperienced commanding officer Captain Collins (Richard Crenna) frequently drills his charges, unsure what else to do. A machinist's mate with just under a decade of navy service behind him, Jake Holman (Steve McQueen) is assigned to the San Pablo and immediately makes enemies among the crew -- he prefers to do his own work rather than farm it out to others, and the one Chinese man who works by his side, Po Han (Mako), is treated as an apprentice rather than a servant. Holman also falls in love with an idealistic American missionary (Candice Bergen), while his shipmate Frenchy (Richard Attenborough) falls for a Chinese girl and - with marriage plans in mind - kidnaps her to prevent her from being auctioned off. As Holman's methods and attitudes continue to anger his comrades, they find themselves increasingly at odds with the Chinese, especially after Frenchy's girlfriend becomes pregnant and Po Han is captured by revolutionary forces and branded a traitor. ~ Mark Deming, Rovi
News & Interviews for The Sand Pebbles
Critic Reviews for The Sand Pebbles
Audience Reviews for The Sand Pebbles
This is further proof that Robert Wise was one of the most versatile and diverse directors out there. Set in China in 1926, this is the story of a burnt out and apathetic sailor who gets transfered to a ragged American gunboat whose main mission is to protect U.S. interests in China without causing an international incident, something not all that easy given how China is in the midst of all kinds of turmoil and revolution. The main things the movie deals with are imperialism, the impact of nationalism and protesting, race relations, and cultural traditions, etc. It's full of substance and thought, but also contains lots of human drama and action as well. Considering the long running time, the fact that this is all so jammed packed is good, because there's plenty of time for everything to get fleshed out and dealt with. For the most part, this is all pretty successful too. The action seems really disjointed given how the bulk of it is saved for the third act, but the build up to it does have some suspense and tension, as you get the feeling throughout that eventually things will finally boil over. It's also nice to see the rather sensitive way racism and cultural issues are dealt with, especiually how in the mid 60s this sort of thing could have gone really bad. It is Robert Wise though, so I don't think you need to be too worried. The sets, costumes, and locations are great, there's wonderful cinematography, the music is thrilling, and there's a little bit of everything here, so this can be appreciated by a wide audience. Performance wise, it's all top notch. It's surprising that Steve McQueen only got one Oscar nomination during his career, but that it happened here is fine. He's great as always, and not once is he ever boring to watch. Rochard Attenborough is likewise great as rthe one sailor who is able to look past the flaws of McQueen's character and be his only real friend and ally. It's awesome seeing Richard Crenna in a pre-Rambo related role, even though he's still playing a military part. Mako is also great here, though I really wanted more of him. What presence he does have is splendid though, and his Oscar nod was also quite deserved. All in all, this is a really good movie. It is quite long, and occasionally it is uneven and runs out of steam from time to time, but even then it always has something good going for it, and has a lot to offer.
Chris Weber
Super Reviewer
Wonderful film with a wonderful story.
Christian C
Super Reviewer
An apathetic American sailor gets caught in the crossfire between ill-fated western colonialism and the Chinese revolution. A compelling drama full of passion and raw human decency, expertly directed by the legendary Robert Wise.
Randy Tippy
Super Reviewer