Sand Sharks
(2011)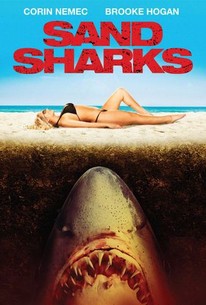 AUDIENCE SCORE
Critic Consensus: No consensus yet.
Movie Info
An underwater earthquake unleashes a hungry prehistoric predator with the power to swim through sand as if it were water in this creature feature starring Brooke Hogan and Corin Nemec. As the unstoppable beast turns a nearby beach party into an all-you-can-eat buffet, the terrified revelers run screaming for their lives.
Critic Reviews for Sand Sharks
All Critics (2) | Top Critics (1) | Fresh (0) | Rotten (2)
too self-aware to be as stupid as it appears on the surface, but the 1-D characterisation, moronic dialogue, cheesy creature effects, and performances as consistently broad as the frat house humour, prevent its savviness from ever going very deep.
January 10, 2012

Everybody involved in this is clearly having a good time, which - if you don't object too strongly to rubbish special effects, weak performances and a desperately stretched budget - makes it very easy to like.
Audience Reviews for Sand Sharks
The Sand Sharks themselves have an at least slightly interesting design, but the movie they are named for is woeful. There was almost some humour at a couple of points, but this, just like everything else in Sand Sharks, falls flat.
½
As a child, whenever I'd go to a beach I'd imagine sharks gliding effortlessly through the sand. I must have been 6 or 7 back then. Now, 20 years later, someone had the idea to turn that into a film. I love that this film exists even if I don't love the film itself. This has the exact same plot as Jaws, all the way down to the expert called in, the old hunter guy showing up at the town meeting, and the wrong shark being caught early on. The problem with the film is that it tries too hard to be funny. And when it tries it fails, or simply confuses. There are some nice touches, such as one of the characters giving "As my father always said..." speeches, but lapsing into bad impressions. It's when it shies away from something that could have been emotional, for a few needless gory gags. Casting Brooke Hogan as a doctor of marine biology is the first red flag this film gives off. The film trudges towards a climax involving a couple of dozen people trying to give off the impression of a huge party. Seeing the actors crowd around the camera to make it looked pack, or the same actor running back and forth, is mildly amusing. Bad CGI, bad jokes that you laugh at and not with, and exceptionally bad one liners "Your party is no longer on the sand, it's on the ice." It all adds up to what I was expecting, but it didn't have the budget to be the parody it seemed to be aiming for.
Luke Baldock
Super Reviewer
Sand Sharks Quotes
There are no approved quotes yet for this movie.