The Sandlot
(1993)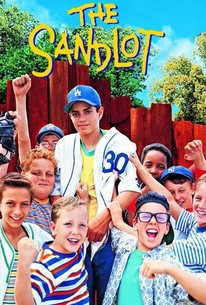 TOMATOMETER
AUDIENCE SCORE
Critic Consensus: It may be shamelessly derivative and overly nostalgic, but The Sandlot is nevertheless a genuinely sweet and funny coming-of-age adventure.
Movie Info
The Sandlot is a coming-of-age story about a group of young boys growing up in California in 1962. A new, shy boy (Thomas Guiry) moves into the neighborhood, where he is initially rejected by the local boys because he doesn't know how to play baseball. Soon, he learns the sport and joins the group of boys who play ball in a local sandlot, and with his new friends, he has a variety of adventures.
Critic Reviews for The Sandlot
Audience Reviews for The Sandlot
This film tells the story of how a Major League hero grew up with his friends in his old town, enjoying life and going through challenges, but ultimately sticking to his heart, which is devoted to baseball. However, the story does not specifically follow him (Benny), but the newcomer (Smalls) who has no background knowledge of baseball, but loves to play the game. With great direction, solid writing, and a fun premise, "The Sandlot" is a home run for all families. I had a blast watching this film. Even though it gets kind of laughable with Hercules the Dog, It's a great kids film!
½
i like this movie cuz i like doggies and baseball
Spencer Macklin
Super Reviewer
Alongside "The Lion King" and "Toy Story", this is a film I grew up watching... many times. The plot is hilarious and there are many iconic scenes. Love all the characters.
Eric Shankle
Super Reviewer
The Sandlot Quotes
| | |
| --- | --- |
| Hamilton "Ham" Porter: | Hurry up batter. It's gotta be a short game, then I gotta get home for lunch. |
| | |
| --- | --- |
| "The Babe": | Remember kid, there's heroes and there's legends: Heroes get remembered, but legends never die. Follow your heart kid, and you can never go wrong. |
| "The Babe": | Remember kid, there's heroes and there's legends. Heroes get remembered, but legends never die. Follow your heart kid and you can never go wrong. |
| | |
| --- | --- |
| Wendy: | (after Squints kisses her) Little pervert! |
| Wendy: | [after Squints kisses her] Little pervert! |
| | |
| --- | --- |
| Michael "Squints"' Palledorous: | (after Benny lectures Smalls on catching/throwing a ball) It's about time, Benny; my clothes are going out of style! |
| Michael "Squints"' Palledorous: | [after Benny lectures Smalls on catching/throwing a ball] It's about time, Benny; my clothes are going out of style! |
| Alan "Yeah-Yeah" McClennan: | They already are, Squints. |
| Michael "Squints"' Palledorous: | Shut up! |