Sansho the Bailiff (Sanshô dayû)
(1954)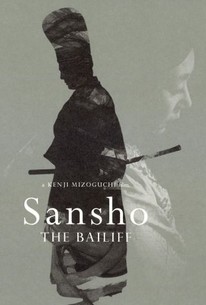 Sansho the Bailiff (Sanshô dayû) Photos
Movie Info
Set in 11th-century Japan, this film tells the story of a family that is broken apart when the father is exiled. When the mother and children set out to look for him, they are ambushed by kidnappers who sell the mother as a prostitute and the two children as slaves.
Critic Reviews for Sansho the Bailiff (Sanshô dayû)
Audience Reviews for Sansho the Bailiff (Sanshô dayû)
One of the greatest accomplishments in the history of film, concerning a family torn apart after the father, a governor, is exiled due to sticking to his morals, and how the rest of his family is sold into slavery and prostitution after attempting to find him. A damning display of slavery and a heroic tale of perseverance, there isn't an inch of pretentiousness to 'Sansho', more so a delicate simplicity that makes its points very well and never loses focus on its overarching message of honesty and integrity are two of the most important traits we as humans should possess. Almost unbearable to watch at times just because of how disturbing the conditions these slaves have to work under are, but there is always a ray of light at the end of the tunnel that takes form in the second half of the film with splendid, moving results. A dynamite, important film.
Dan Schultz
Super Reviewer
½
Kenji Mizoguchi's 1954 film "Sansho the Bailiff" is positively Dickensian in it's measure of human suffering, although it is apparently an old japanese fable about the virtues of mercy and compassion. When the governor of a province refuses to crack down and execute some protestors, he and his family are exiled. His wife and children are separated from him, and on their way to re-join the father they are abducted by slave traders and sold into slavery. The mother is sold to a brothel and the brother and sister are sold to Sansho the bailiff, who is overseer of the mansion belonging to the Minister of the right. Conditions for slaves there are deplorable, but the children must bide their time if they ever want to escape back to their parents. The story is quite a tear-jerker, and undoubtably a crowd pleaser with it's injustices being shown up in the end by the virtues of compassion and mercy. It's quite poignant to say the least (and I'm sure if Charles Dickens were asian and alive in the 1950s, I'm sure he'd say the same thing).
Devon Bott
Super Reviewer
½
Sure it is a simple "folky" tale...and sure some of acting is a bit over the top at times (looking at you Zushio) but Mizoguchi tells (and shoots) it in a way that you can not help but enjoy.
Sansho the Bailiff (Sanshô dayû) Quotes
There are no approved quotes yet for this movie.