Santa Claus Conquers the Martians
(1964)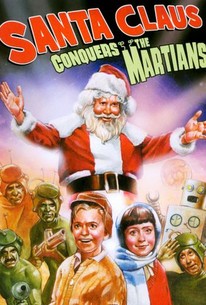 Santa Claus Conquers the Martians Videos
Santa Claus Conquers the Martians Photos
Movie Info
The biggest, most brightly-wrapped gift under the colorful Christmas tree is a new digital restoration of the unforgettable 1964 B-movie Santa Claus Conquers the Martians, best known as the screen debut of actress/singer Pia Zadora. Martians come to Earth to kidnap Santa Claus because there is no one on Mars to give their children presents. Earth kids Billy and Betty set out to save Santa and return him to Earth. The film is a baffling mixture of sci-fi, Christmas cheer and childish slapstick, all filmed in garish (or as the poster says, "Space-Blazing") color. See all this, a bouncing ball "Jingle Bells" sing-along and much more, mastered from the best surviving prints!
News & Interviews for Santa Claus Conquers the Martians
Critic Reviews for Santa Claus Conquers the Martians
Audience Reviews for Santa Claus Conquers the Martians
A cult Christmas classic, "Santa Claus Conquers the Martians" concerns Martians and their selfish, perturbed children who have no fun and hope that Santa's goodwill will come to their planet. The Martians come to Earth, kidnap some kids, then Santa, and take them back to their planet. Some of the Martians dislike the idea of letting Santa on their planet, and plot to kill him and the children, but are thwarted time and again. The film isn't inherently bad: it has a logical plot, the performances aren't all that bad, and it's message of letting kids have fun is inspiring. The reason it's so ridiculous is the premise itself. That and the costuming is horrible, like, ridiculously bad. The Martians are all in green-face, the elves are all dwarves, and the Martian children look and sound like practiced wind-up dolls. While this isn't the best bad movie it's rather entertaining and fun for the entire family, even with its constant plot device of children killing alien life forms.
Spencer S.
Super Reviewer
I just happened to catch this movie on TV the other night, unfortunately. It's got an interesting story, which may have been the inspiration for Disney's new movie Mars Needs Moms, because in this movie the kids of mars need a Santa. This movie is complete cheese, with bad actors, dialogue, special effects, directing, the works! An interesting bad movie, though.
In the right company and with loads of "adult" beverages, this one could be a scream. But watch it alone and you'd wish you were dead just to escape a world that would allow crap like this to be produced.
Santa Claus Conquers the Martians Quotes
There are no approved quotes yet for this movie.