Santa's Slay
(2004)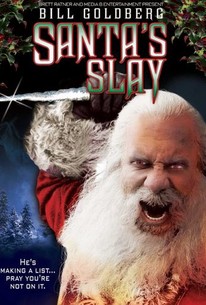 AUDIENCE SCORE
Critic Consensus: No consensus yet.
Movie Info
It turns out that Santa Claus is not really the cuddly, harmless old fellow that we all know and love. In fact, he's a devil, and the only thing that has been keeping his bad side in check all this time is a bet he lost with an angel. Now, the bet has expired, and 1,000 years of good cheer will be replaced by Christmas fear. This Christmas will be a violent night of chaos, with Santa bashing his way through town. Local boy Nicholas, his girlfriend Mac and his crazy Grandfather are the only ones who know the truth about Santa and can save their town and the world.
Critic Reviews for Santa's Slay
Audience Reviews for Santa's Slay
½
Santa Claus: Looks like Grandpa got ran over by a reindeer.  "He's making a list... pray you're not on it." Well Santa's Slay is exactly what you would expect from a killer Santa movie featuring Bill Goldberg. I actually had a pretty good time watching it, even as it got a little tiresome near the end. The producers and director where smart though and knew that they shouldn't overstay their welcome and stopped after about 70 minutes. Anymore and I would have disliked it much more.  Obviously this isn't high class filmmaking at work. It's a fucking killer Santa demon, so it's going to be stupid. If you don't like stupid, B-movie horror then don't watch it. I love reading reviews from people who watched this movie and then complained about it being stupid. Read the synopsis. They weren't hiding it; that is the appeal.  So the good Santa we have seen for the last 1000 years is a result of a bet he made with an angel. Now Santa's time is up and he is ready to get back to what he is really about... killing. The cast actually isn't that bad, with some decent character actors, a cameo from James Caan and the beautiful Emilie de Ravin, who I think I might just be in love with. Bill Goldberg makes for a pretty good, humorous and huge Santa.  Not a bad movie to start the Christmas season off with. Normally I'll watch something like Miracle on 34th Street to get started, but a movie with a killer Santa just seemed a little more interesting. 
Melvin White
Super Reviewer
Bought this film for 4$ at a used DVD store. I had heard about this film and how funny and terrify it was. Santa's Slay is a terrific above average Comedy Horror film with plenty of laughs and awesome kills. This is one of the best B horror films I have ever seen. The thing that surprised me the most was that Brett Ratner produced this film, and considering he butchered the third X men film and directing those awful Rush Hour films, he does manage to produce something good here. Santa's Slay is high on laughs, and to compliment the high amount of laughs, there is a high body count. If Halloween is traditional Halloween viewing, then Santa's Slay is traditional viewing for the Christmas Holidays. A terrific Comedy-horror film.
Didn't expect much from this movie, but it turned out to be somewhat enjoyable, as Bill Goldberg was a riot. It definitely has a sick twist to the story of Christmas, but taken with a sense of humor and you will be alright. Those who have rated it low, I believe you were expecting a little to much. I would say its worth the 4 stars and a night of enjoyment.
Bruce Bruce
Super Reviewer
Santa's Slay Quotes
There are no approved quotes yet for this movie.