Sapphire
(1959)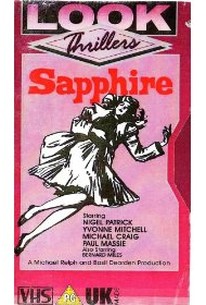 AUDIENCE SCORE
Critic Consensus: No consensus yet.
Movie Info
Nigel Patrick and Michael Craig portray two Scotland Yard detectives who are investigating the murder of a young black woman who had been passing for white. As timely a topic today as when made in an England rampant with racial prejudice in the 1950s, it stays just this side of an in-depth indictment of racism and bigotry as the detectives investigate the vast array of suspects--everyone from the girl's white boyfriend and his parents who feared that the association would destroy his career to the boys that the girl had spurned when she was accepted by white society. ~ Tana Hobart, Rovi
Critic Reviews for Sapphire
All Critics (3) | Fresh (1) | Rotten (2) | DVD (1)
A thoroughly engrossing and highly plausible entertainment -- and an unusually trenchant examination of the psychology of bigotry.
Unfortunately, this film does not hold good on any level, and is flatly written and directed into the bargain. The melodrama has little drive other than the monotonous ending of sequence after sequence on a "punch line."
This is Important Cinema with Socially Relevant Themes and, while surely daring in its day, comes off as insufferably patronizing and sanctimonious at times.
Audience Reviews for Sapphire
"Sapphire" starts with the discovery of a dead body in a London park by two children. As Superintendent Robert Hazard(Nigel Patrick) and Inspector Phil Learoyd(Michael Craig) investigate the case, they identify the victim as Sapphire, Robbins, a university student, and talk to her boyfriend, David Harris(Paul Massie). When Hazard meets her older brother(Earl Cameron), a doctor, he is taken aback by his dark brown skin, learning in the process that Sapphire was passing for white. You have to like any mystery that starts with a dead body, and "Sapphire" uses that as a jumping off point for a compelling puzzle that is more who was she than who done it, although that is not unimportant here. The movie turns that into a smart and pointed critique of the racism of the time the movie was made in England which only surprised me as far as the segregation was concerned but there is none of the mistrust of the police that I would come to expect.(Is it any wonder that Basil Dearden would go on to direct "Victim" two years later?) The movie is also far ahead of its time in popping any number of stereotypes in its nuanced depiction of black professionals. At first, I thought maybe the attitudes on race might be generational but Hazard is the consummate professional, especially compared to his younger colleague, as the movie is firmly interested in not letting anyone off the hook.
½
THIS REVIEW CONTAINS SPOILERS! The first big success of Basil Dearden, Sapphire is the story of a girl with this name that is killed in the beginning of the film. Throughout the film we follow the detectives around and are introduced to a number of potential suspects, eaxh with their own motives and stories. The characters are well developed and add richness to the film. The movie deals with racism and several racial slurs including the N word. Although controversial, especially by today's standards, the racially motivated plots are what add most of the tension and ultimately the cause of the murder.
Chris Browning
Super Reviewer
Sapphire Quotes
There are no approved quotes yet for this movie.