Sasori
(2008)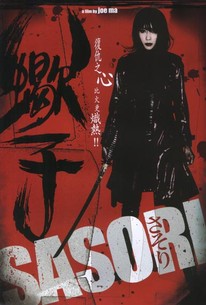 AUDIENCE SCORE
Critic Consensus: No consensus yet.
Movie Info
An ordinary woman is transformed into a fighting machine in the wake of a shocking crime in this action drama from Japan. Sasori (Miki Mizuno) is a housewife happily married to a policeman (Dylan Kuo) who plays guitar in his spare time. One day, a gang of violent criminals break into Sasori's home and take hold of her husband as Sasori is goaded into murdering his sister. When the police arrive, Sasori is arrested as her husband sits in stunned silence. Convicted of murder, Sasori must prove her mettle against the tough-as-nails inmates at a grim women's prison, but the former housewife reveals she can give as good as she gets in a fight. Sasori runs afoul of the prison staff and the warden (Lam Suet) exiles her into a woodland just outside the prison grounds, where she's isolated with little hope of escape. To Sasori's surprise, she encounters a hermit known as the Corpse Collector (Simon Yam), who gives her a crash course in the martial arts and helps her escape. Sasori fights her way back to civilization and tracks down her husband, who is now playing with a rock band at a night spot, while his wife is determined to get revenge for being sent through hell. Sasori was based on a classic manga by Tooru Shinohara, and was previously adapted for the screen under the title Female Prisoner #701: Scorpion. ~ Mark Deming, Rovi
Critic Reviews for Sasori
All Critics (1) | Fresh (0) | Rotten (1)
Long, dour journey with a one-dimensional lead character, feeling the potential of this unsavory material slowly drain away as the production fixates on a grand idea of street justice that never makes a lick of sense.
Audience Reviews for Sasori
Joe Ma's Sasori is a rough remake of the "Sasori" film series from the 70s starring Meiko Kaji. How does this film turn out? Good, but not great.
The story revolves around revenge and Joe Ma takes the time to add some Kill Bill flavor to it. The camerawork is excellent; however, when mixed with the mellow soundtrack, the film becomes really dramatized with characters that aren't as interesting as they should be. This isn't to say that this is a boring film, as the 95 minutes don't take an eternity to pass.
There is a good amount of intense violence, but the climax for most of these scenes take place off screen or is cut away from, leaving those few seconds to the imagination. The action in the first half is all brawls in a female prison, while the wire fu marital arts unleashes in the second. It's unfortunate that there isn't more of it because the choreography is quite good.
Miki Mizuno's lead performance is acceptable and so is the rest of the supporting cast. Simon Yam's brief role is one to look out for.
Sasori isn't original and it isn't overly impressive. Still, there is enough to make this worth watching.
Sasori Quotes
There are no approved quotes yet for this movie.