Saturday Night Fever
(1977)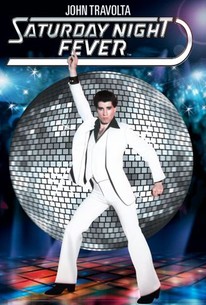 TOMATOMETER
AUDIENCE SCORE
Critic Consensus: Boasting a smart, poignant story, a classic soundtrack, and a starmaking performance from John Travolta, Saturday Night Fever ranks among the finest dramas of the 1970s.
Saturday Night Fever Videos
Saturday Night Fever Photos
Movie Info
John Travolta graduated from minor celebrity to superstar with Saturday Night Fever. Travolta plays Tony Manero, a Brooklyn paint-store clerk who'd give anything to break out of his dead-end existence. In life, Tony is a peasant; on the disco dance floor, he's a king. As the soundtrack plays one Bee Gees hit after another (including "Stayin' Alive"), we watch white-suited Tony strut his stuff amidst flashing lights and sweaty, undulating bodies. Tony's class aspirations are mirrored in his relationship with his dance partner, Stephanie (Karen Lynn Gorney), a secretary eager to move into the glamorous world of Manhattan. Saturday Night Fever's huge success grew meteorically thanks to the towering popularity of its soundtrack; during the first half of 1978, when the movie's disco songs saturated the singles charts up to four at a time, it was no longer clear whether the hit movie was feeding the hit songs or the hit songs were feeding the hit movie. This crossover between music and movies set the pace for many movies to come, as it also marked the rise and fall of 1970s disco culture. Two versions of this film exist: the original R-rated version and a PG version, edited down to more "family-friendly" fare and fed to the public with the tagline, "Because we want everyone to see John Travolta's performance." ~ Hal Erickson, Rovi
News & Interviews for Saturday Night Fever
Critic Reviews for Saturday Night Fever
Audience Reviews for Saturday Night Fever
½
I was shocked. This film was way better than I expected. I was tempted to fast-forward the many dance sequences, but around them, John Travolta builds an interesting and compelling character with a performance worthy of its Academy Award nomination. His character, Tony Manero, has Rocky and Serpico posters on the bedroom wall in his parents' Brooklyn home, and he joins his idols as an Italian-American everyman on-screen, breaking free from a traditional family, and learning - when he meets Stephanie, who's leaving Brooklyn for Manhattan thanks to a job at an advertising agency - that his big-fish-in-a-small-pond days may be coming to an end. And though the film culminates in a dance competition, the movie's not about disco dancing at all; it's about class, and upbringing, and social status: a place to stand in the world... but yeah, fast-forward the dance sequences. There are some Bee-Gees songs that deserve to stand the test of time, but those used in this film, if not for this film, would have been otherwise forgettable.
Daniel Perry
Super Reviewer
Silly but, for some strange reason, charming.
Tsubaki Sanjuro
Super Reviewer
½
First off, a disclaimer: no, I had never actually seen this before (but still had preconceived notions about it), and I don't really care for the disco scene. You might be wondering then why I finally decided to give it a chance and watch it. Well, a couple of reasons. As a burgeoning historian wishing to specialize in 20th century pop culture studies, specifically the 60s and 70s, I kinda can't ignore this. Also, even though I'm still not a fan of disco music or dancing, I've grown to respect and appreciate it. Thus, all my old views that this movie was some stupid, cheesy piece of disco kitsch, while still a bit existant, had overtime softened some, and I felt like I would be mature enough to give it a chance, maybe even realize that there's more to it than it seems. Wouldn't you know it, I ended up being right. It's wrong to just marginalize this movie as disco kitsch. Yes, the disco scene is a major part of it, but it is, really, just the backdrop. If you take away the fashion, music, and dancing ,you'll see that this is really a great coming of age story and touches upon some deep issues that are very important to people. Unfortunately it's the music, fashion, and dancing that were capitalized on in the ad campaigns and seem to be what people would prefer to remember, and I don't think that's right. Tony Manero is an immature working class 19 year-old who lives with his family in Brroklyn's Bay Ridge neighborhood. By day he works at a paint and hardware store, but every Saturday night, he puts his reality on hold and becomes the king of the local disco, wowing people with his moves, and really living it up. He pals around with a bunch of immature macho thugs, and, while he likes them, you can tell that he really wants more out of life, and knows that he needs to grow up and moe on if he really wants to make his life more fulfilling, perhaps by using his dancing to get the job done. I wasn't expecting this movie to be a serious drama that does deal with some deep issues as serious subtext. The material is taken seriously, and, while some of this movie is fun (it really is hard to not get swept up in the mess that was the late 70s), there's also a lot of sadness, and some grim and grittty moments that, while uncomfortable, are very much real and unavoidable. If only I would have known from the beginning that this movie was a touching coming of age character study I probably would have been mroe eager to give it a chance sooner. John Travolta became a star here, and yes, he does give a fantastic performance. He's not the only one, though. Karen Lynn Gorney is great as Stephanie the woman who agrees to partner with Tony for a dance competition. Donna Pescow is really good as a woman who's love for Tony is unrequited, and Val Biscoglio and Julie Bovasso as wonderful as Tony's bickering parents. The music does grow on you, and in context, the whole disco era does too. It was a messed up time in the world. I'm still not that big on disco tunes, but compared to contemporary club music, this at least comes off as being real music. You really should give this one a chance. You don't have to care about or enjoy disco appreciate this movie. The worst hting you can do is be like me and make unwarranted judgments before actually sitting down and watching this. Give it a shot. Like me, you might find yourself pleasantly surprised by what you see.
Chris Weber
Super Reviewer
Saturday Night Fever Quotes