Saturday the 14th
(1981)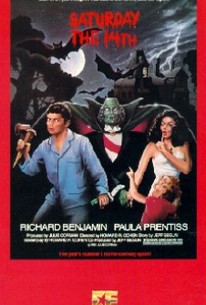 Movie Info
A suspense comedy spoof about a family that disregards a warning in a will, and decides to accept their inheritance of a cursed house. See "House on Haunted Hill" (1958), "Friday the 13th," "Halloween" and other slasher-suspense flicks for this film's targets.
Critic Reviews for Saturday the 14th
Audience Reviews for Saturday the 14th
½
I can't even begin to defend this silly movie. Saturday the 14th is considered a spoof of the various horror sub genres, but in fact it does its own thing while still being a bit of a spoof. It certainly isn't a spoof in the style of the Zucker comedies and it's more homage than anything. Besides the title, it's got lots to send up. Everything from Dracula, bats, a werewolf, a mummy, the Creature from the Black Lagoon... basically all of the Universal classic monster bits, are in there. Then it also takes knocks at slasher and haunted house movies like Halloween, Jaws and The Amityville Horror, or even the original House on Haunted Hill. It's comedy isn't all that funny, per se, but it's too lighthearted and harmless to be written off completely. It does feature a very early role for Jeffrey Tambor, and I also like the dad who doesn't buy into any of this ghouls and ghosts business... even when they're standing right in front of him. I'm not sure if that was the aim, but it's definitely in the performance. The movie isn't that good I guess, and it's more or less obscure nowadays, but it's enjoyable for what it is, which is a harmless (but mostly unfunny) horror comedy. Actually, now that I think of it, this and Ghost Fever would make a great double feature... or not. ;)
Tim Salmons
Super Reviewer
Not that funny to tell you the truth. Don't watch it. p.s: as I have to give it a half star, so that will be for the starting where the werewolf coughed. That was funny.
Dead Angel
Super Reviewer
½
This is a horror spoof off the genre back in the early 80s, making obvious cracks towards haunted house flicks as well as adding a mix of vampires and various other creatures in the mix. Most of the gags don't work, but the movie has its' charm. If you like cheesy and mildly-amusing horror spoofs then check this out.
El Hombre Invisible
Super Reviewer
Saturday the 14th Quotes
There are no approved quotes yet for this movie.