Saturday the 14th Strikes Back
(1988)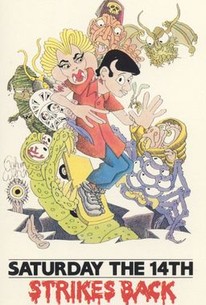 Saturday the 14th Strikes Back Photos
Movie Info
The sequel to Saturday the 14th, this horror-comedy traces the adventures of nice-guy teen Eddie Baxter (Jason Presson) as he saves the world from the brink of supernatural destruction. After moving into a decrepit, inherited mansion with his family -- a collection of oddballs who eat nothing but junk food yet cling to a Leave It to Beaver sense of normalcy -- Eddie is the only one to notice the mysterious mists that spill up from the basement and engender odd behavior in everyone but himself and lovable old Gramps (Ray Walston). The entire family, from Eddie's dad (Avery Schreiber) to his freeloading Aunt Alice (Rhonda Aldrich), soon begins conducting late-night chocolate-fudge sculpture classes in the kitchen. Chairs begin eating people, Aunt Alice spouts werewolf-style facial hair, and monsters begin issuing forth from a crack in the basement floor. Soon, a leggy blond vampire named Charlene (Pamela Stonebrook) has taken up residence in the Eddie's room; she tells the boy he's set to inherit the mantle of darkness from a fiend known as The Evil One (Leo V. Gordon) at the stroke of midnight on Saturday the 14th. As signs and portents proliferate, Eddie must decide whether to reject temptation or bask in his newfound powers. Help arrives unexpectedly in the form of Leonard Cavendish (Phil Leeds), Gramps' deceased best friend. Saturday the 14th Strikes Back co-star Avery Schreiber spent much of the '80s being distracted by the hearty crunch of Doritos snack chips in a long-running series of TV commercials. Audiences will remember Ray Walston from his role as Uncle Martin in the '60s TV show My Favorite Martian, while veteran comedy player Phil Leeds would go on to play tooth-obsessed Judge Happy Boyle on the '90s Fox comedy Ally McBeal.
Critic Reviews for Saturday the 14th Strikes Back
All Critics (7) | Fresh (2) | Rotten (5) | DVD (1)
Regardless of however you may feel about the movie, the one thing you have to give Cohen credit for is that ST14SB is truly unlike anything else that came out in 1988, or pretty much ever.
Absolutely horrible. Why did I even rent this?
December 19, 2004 | Rating: 0/5
Audience Reviews
There are no featured reviews for Saturday the 14th Strikes Back at this time.
Saturday the 14th Strikes Back Quotes
There are no approved quotes yet for this movie.