Saturn 3
(1980)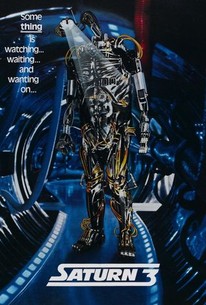 Movie Info
Director Stanley Donen's sci-fi film Saturn 3 stars Kirk Douglas and Farrah Fawcett as scientists living on Saturn's third moon. Their mission is to create new food sources that they can take back to Earth, however their peaceful existence comes to a halt when a third person, Benson (Harvey Keitel) arrives with a super advanced robot that becomes a dangerous killing machine after communication with Earth is lost due to an eclipse.
Critic Reviews for Saturn 3
Audience Reviews for Saturn 3
Or Frankenstein In Space! Despite the number of A-listers working on this what we get is simply a poor effort all round, but I'd start with a weak story first.Worst than some fan made Youtube efforts I've seen ... by far.Either give it a pass or light up a joint and have a few this.
Kevin M. Williams
Super Reviewer
½
Fond memories of this movie. Actually, any science fiction around the late 70's to early 80's was seen as a continuation of the Star Wars exciting momentum. Re-watching with post-ROTJ blues, Saturn 3 seemed confined to a single base, with a junky robot and embarrassingly acted. The story is a shambled mess. The future technology presented now seems clunky. Harvey Keitel plays a cold snake character. Farrah and Kirk's relationship seems a bit awkward; she was so smooth and young and he was so old and wrinkled. I noticed the lack of incidental music. Most impressive was the set design of the remote space station.
Lafe Fredbjornson
Super Reviewer
½
I saw this on TV a long time ago, and I'd forgotten what it was about, but reading the summary on here it sounds like everyone falls in love with Farrah Fawcett in outer space, and that just sounds silly, no wonder I didn't rate it so high.