Savages
(2012)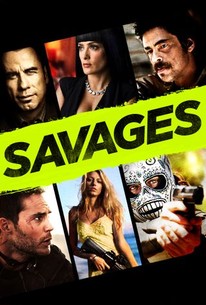 Movie Info
Laguna Beach entrepreneurs Ben (Johnson), a peaceful and charitable Buddhist, and his closest friend Chon (Kitsch), a former Navy SEAL and ex-mercenary, run a lucrative, homegrown industry-raising some of the best marijuana ever developed. They also share a one-of-a-kind love with the extraordinary beauty Ophelia (Lively). Life is idyllic in their Southern California town...until the Mexican Baja Cartel decides to move in and demands that the trio partners with them. When the merciless head of the BC, Elena (Hayek), and her brutal enforcer, Lado (Del Toro), underestimate the unbreakable bond among these three friends, Ben and Chon-with the reluctant, slippery assistance of a dirty DEA agent (Travolta)-wage a seemingly unwinnable war against the cartel. -- (C) Universal
News & Interviews for Savages
Critic Reviews for Savages
Audience Reviews for Savages
Rather long, and rather involved...but I liked it. Definitely plenty of blood, sex, violence, and brutality. This IS an Oliver Stone movie, and his movies are not known for totally adhering to reality. This one included. Yes, some of the characters were somewhat over the top and exaggerated, but that's what Oliver Stone does. I am NOT a huge fan of his, but I think that he did a really good job on this one...
Cynthia S.
Super Reviewer
Salma Hayek is given a role that suits her (age-wise & acting-wise), but the lead actress was terrible. The two lead actors were about okay. The ending was nonsensical, although like many did, I didn't find the rest of the movie that incredible. A mediocre presentation by O.
familiar stranger
Super Reviewer
Savages was a great thriller. I loved most of it. The actors are in a wide variety. I enjoyed that. There are some performances that were so, so and others that really stood out. The two male leads are drool worthy, but besides that, they did an awesome job in the movie. I love Taylor Kitsch and have bee a fan of his since his Friday Night Lights days. The ones who bothered me the most was Travolta and Hayek. I thought they both were over dramatic and cartoonish in their performance. Especially Travolta. Blake Lively is another one who bothered me. I have yet to see her in a role where she doesn't come off bored and uninterested. It's like she's just a pretty girl they put in the film to look at. She is forgetful and a boring actress who never brings any worth to the films she miraculously gets roles in. But besides those flaws, the film was actually pretty good. I thought it could have been tied up better at the end, but still a good film worth seeing.
♥˩ƳИИ ƜѲѲƉƧ♥
Super Reviewer
Savages Quotes
| | |
| --- | --- |
| O: | It started here in paradise, Laguna Beach, where they say God parked himself on the seventh day, but they towed him on the eighth. |
| | |
| --- | --- |
| Chon: | These people don't make deals; they're fucking Savages. |
| | |
| --- | --- |
| Chon: | I've seen worse and I'd do worse to them. |
| | |
| --- | --- |
| Elena: | if u wanna control somebody take what they love |
| Elena: | If u wanna control somebody take what they love. |
| Elena: | If you wanna control somebody, take what they love. |