Save the Green Planet
(2004)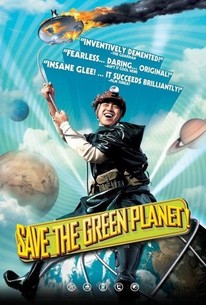 TOMATOMETER
AUDIENCE SCORE
Critic Consensus: A funny and wildly inventive hybrid of various genres, Save the Green Planet! is definitely a unique viewing experience.
Save the Green Planet Photos
Movie Info
The genre-bending black comedy sci-fi thriller Save the Green Planet! marks the feature debut of writer/director Jang Jun-hwan. Shin Ha-kyun of Joint Security Area stars as Byun-gu, an eccentric beekeeper who, with the help of his tightrope walker girlfriend, Sooni (Hwang Jeong-min), kidnaps a powerful and successful businessman, Man-sik (Baek Yun-shik). Byun-gu believes that Man-sik is an alien from the planet Andromeda, one of many hiding among us and plotting to destroy the Earth in a few days. Amphetamine-popping Byun-gu sees himself as the planet's last hope, and sets about torturing Man-sik with relish, trying to convince him to contact the "Royal Prince" and call off Armageddon. A battle of wits and wills ensues, with Man-sik trying to convince his captors that he's human and attempting to escape. Man-sik recognizes Byun-gu as a disgruntled former employee whose comatose mother suffers from a mysterious illness. It begins to seem that Byun-gu's true motivation may be personal, but he's still ruthlessly determined to get Man-sik to confess and cooperate, even if he has to risk killing him. Meanwhile, a disheveled detective, Chu (Lee Jae-yong), and his young acolyte, Inspector Kim (Lee Ju-hyeon), discover that the person who kidnapped Man-sik may have struck several times before, always with deadly results. The distinctly offbeat Save the Green Planet! was a box-office flop in South Korea, but it won some acclaim on the festival circuit. The film had its U.S. premiere at the 2004 New York Korean Film Festival.
Critic Reviews for Save the Green Planet
Audience Reviews for Save the Green Planet
Bizarrely impressive, Save The Green Planet! is an obtrusive South Korean hybrid of ridiculous mystery, grotesque suspense, odd romance, eccentric science fiction, and dark humor that follows the dangerous obsession of a man with the extraterrestrial. Save The Green Planet! may be corrupt, but the inventive original idea is preposterously remarkable that frankly created a new genre, which Save The Green Planet! selfishly occupy. Organized chaos.
Jan Marc Macababayao
Super Reviewer
What a delight, A multi-genre film that successfully twists your emotions & thoughts, Not just some random images and actually an Impressive & thought-provoking experience
½
Save the Green Planet is a film that refuses to be defined by a single genre and goes against what you may have come to expect from cinema. It's true originality packaged in comfortable surroundings. The story may sound like a comedy but this is hard hitting, thought provoking and at times, difficult to watch. The film keeps us guessing as to whether the aliens exist, it's all the ravings of a madman, or maybe a bit of both. It deals with human nature in a frank and unsettling way. We are given a protagonist that we gradually become more and more distant from. The comedy is very dark but not so much that it isolates the viewer. One scene has a character shoot at a swarm of bees in a sad attempt stop them from attacking. The film laughs at this action by showing a couple of bees fall to the ground dead. This one moment sums up one of the main points of postponing the inevitable. To say what the film is truly about is to give away the ending. A film that demands another watch.
Luke Baldock
Super Reviewer
Save the Green Planet Quotes
There are no approved quotes yet for this movie.