Save the Tiger
(1973)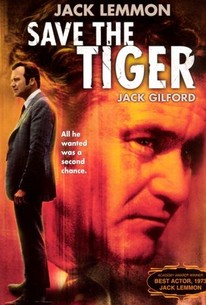 Movie Info
Star Jack Lemmon was so eager to see Save the Tiger make it to the big screen that he waived his salary rather than have the film exceed its tiny budget. Lemmon portrays "the great American tragedy" as upwardly mobile garment manufacturer Harry Stoner, whose underhanded business tactics are beginning to catch up with him, and whose keeping-up-appearances lifestyle has forced him into bankruptcy. The script, by producer Steve Shagan, does nothing to endear us to Stoner: he flagrantly cheats on his wife, arranges business deals by servicing his clients with prostitutes, and finally agrees to torch his warehouse to collect the insurance money, all the while paying empty lip service to his lost ideals. Nonetheless, one "feels" for Stoner throughout, especially when he breaks down while giving a speech to his assembled buyers, imagining that the audience is populated by his dead army buddies, who gave up their lives to make the world safe for good-for-nothings like himself. Lemmon's performance won him an Academy Award. Appearing in supporting roles are Jack Gilford as Lemmon's conscience-stricken partner and Thayer David as a smarmy arsonist.
Critic Reviews for Save the Tiger
Audience Reviews for Save the Tiger
½
A tour de force for Lemmon. Consider this to be a bridge between the early great comedic work and the really marvelous dramatic work of his later career.
John Ballantine
Super Reviewer
Set fire to the factory. Supply women for the clients. Harry Stoner will do anything to get one more season.
The greatest performance ever given by an actor and Jack Lemmon delivers this in his breathtaking Oscar winning role. One of the top ten best films of 1973.
Mister Caple
Super Reviewer
Save the Tiger Quotes
There are no approved quotes yet for this movie.